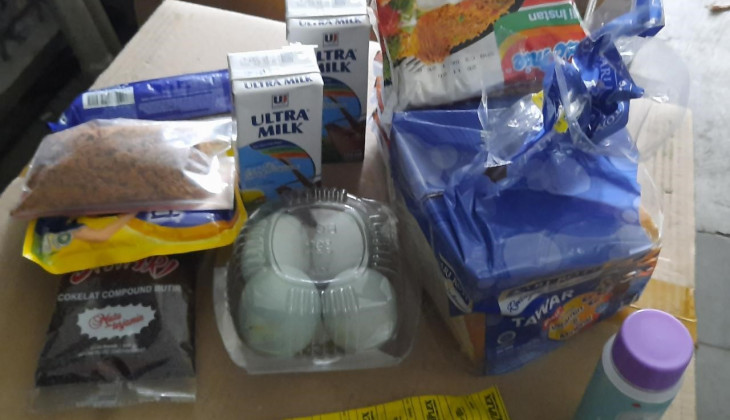 Universitas Gadjah Mada distributes logistics for students who are studying at home or boarding due to the outbreak of COVID-19. This logistical assistance equipped to lessen the economic burden, as well as the start of limited logistical access due to many food stalls starting to close.
Director of Student Affairs, Dr. Suharyadi, M.Sc, when noticing the distribution of logistics at UGM Center on Wednesday (1/4), said the criteria for the assistance given not only to underprivileged students but also to students who were beginning to experience difficulties accessing logistics.i
"A logistics package for five days contains rice, sardines, soy sauce, chili sauce, dry bread, and vitamins," he said.
According to him, every student who needs help scheduled once every five days. Distribution is done every day by planning to avoid crowds.
"We are grateful to the Moving Center, who took part in this activity. The collection carried out at the Gelanggang Command Post," he said.
There are 900 logistical recipient students. While funding sources come from universities, academicians, alumni, and donors.
Amin Bahtiar from Moving Center added to this logistical assistance the UGM Directorate of Student Affairs temporarily ordered 750 food packages at the UGM Student Cooperative. For the first time, 200 food packages distributed as we are waiting for further data development.
"While waiting for the data to remain, students who need it, Kopma itself for the availability of goods may only be ready in 4 days," he explained.
The Alumni Family of the Faculty of Animal Sciences UGM (Kapgama) was doing a similar thing. Through the Kapgama program, charity invites alumni and partners to care about helping students who are vulnerable to the COVID-19 virus, especially students who come from the Bidikmisi pathway.
"Through the Charity Kapgama program, we distribute assistance in the form of food and rice packages for students. This is a form of solidarity in difficult times due to being affected by COVID-19," said the Dean of the Faculty of Animal Husbandry UGM, Prof. Dr. Ali Agus, DAA., DEA., IPU., ASEAN. Eng.
He said during economic limitations, many students did not go home and had to stay at boarding houses. By living in a boarding house, the allowance is limited, and they currently need credit to be able to attend online lectures, not to mention they also need food reserves.
"When we were in college, we might have experienced life in limited conditions. Therefore, let's share and care for others to lighten their burden," he added.
Ir. Achmad Dawami, as the head of Kapgama, said that until Tuesday (31/3), the funds collected were as much as Rp.49,735,088.00. After going through the screening process, there are a total of 99 students who need help.
"We share food packages for 76 students, rice packs for 23 students, and internet package assistance for three students who work in cages because they have no internal WiFi," he said.
Ir. Dyah Maharani, S.Pt., MP, Ph.D., IPM., as the person in charge of the activity said that the food packages were prepared by Plaza Agro and distributed in four points, namely region 1 (Pogung), region 2 (Sendowo, Terban, Blimbingsari ), region 3 (Jetis and Godean), and region 4 (KAP Fapet).
"Aid is distributed by volunteers who have received an assignment letter from the Dean of the Faculty of Animal Husbandry UGM. To anticipate the risk of transmission of COVID-19, volunteers will wear a minimum standard PPE in the form of gloves, masks, raincoats, and hand sanitizers. Both packing officers and volunteers must also pay attention and 1-meter physical distancing," said Dyah.
Author: Agung Nugroho
Translator: Natasa A