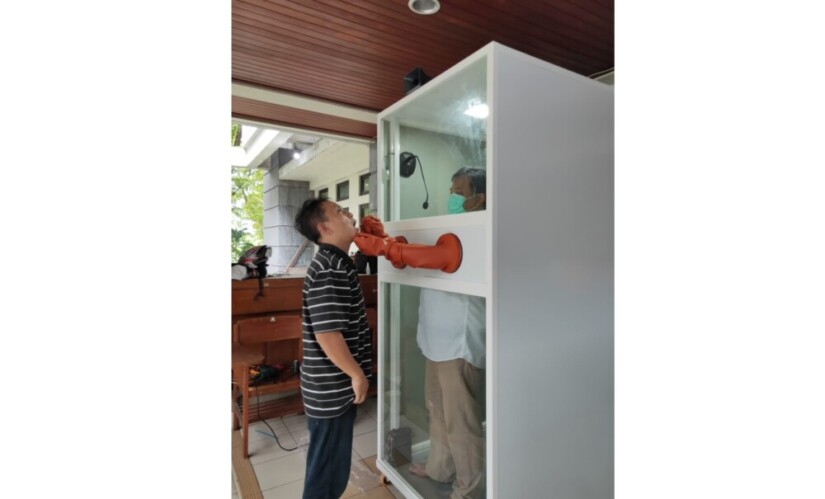 Lecturer at the Universitas of Gadjah Mada (UGM) developed a swab booth equipped with a HEPA filter to facilitate and protect allied health in detecting Coronavirus infections (Covid-19) for patients.
"This booth proposes to the allied health as their protective equipment when conducting swab tests on patients," said the swab booth developer, Jaka Widada, Ph.D., on Friday (17/4).
The lecturer of the Department of Agricultural Microbiology at the Faculty of Agriculture UGM explained that the health workers do not need to use PPE because they are safe inside the booth. The process of taking mucus samples from the nose and throat of the patient using protruding gloves.
He hoped that the booth would not only help and save PPE needs when testing the swab, but it can also provide convenience for health workers when conducting a swab test. However, it still provides the safety of health workers and patients
"The allied health do not need to use PPE. They just enough to wear a mask, so that they do not have to feel inconvenience for wearing hazmat," said the doctorate from the University of Tokyo.
Besides, this booth can reduce medical equipment waste and get around the shortage of medical equipment. It could be an alternative solution for health workers amid the limitations of PPE.
The booth is designed with a size of 90×90 cm and 2 meters in height. The booth body is made of aluminum composite panel (APC) material with a 3 mm thickness. It is also equipped with a door on the back and the front using a glass with 6 mm thickness with two holes mounted with long medical standard gloves. The gloves also equipped with disposable handscoon for the hands of health workers to test patients.
Jaka, who studies environmental biotechnology, said that ideally, the booth body uses stainless steel, but it is still constrained with high prices. On the other hand, it is not possible if the booth body is made of wood, whereas the GRC Board material is less suitable when it is being sterilized using a disinfectant. Although using affordable materials, the swab booth still has high quality according to medical standards.
The booth is also equipped with a HEPA filter. It is a common tool used to make the room clean and sterile, like in a laboratory. Inside the room, there are also lighting lamps and blowers. Furthermore, it also equipped with amplifiers with speakers as a means of communication with patients.
The booth design is dynamic. It can move using its four wheels underneath. The design allows the room to be moved easily and can be used in various places.
Through this swab booth, health workers can feel comfortable when conducting a swab test on patients without threatening the safety of both sides, either medical personnel or patients. Disinfection is carried out on disposable gloves and the outer surface of the cubicle before it is ready for use by the next patient.
"So, when a new patient arrives, the condition has been clean, it has been sprayed and replaced with new gloves," he explained.
The making of this room was inspired by seeing a video of health workers in South Korea who were conducting a swab test in a booth to examine patients. He also discussed with his wife, who is an ENT specialist and is accustomed to testing swabs when examining his patients. Besides that, Jaka has a microbiological scientific background so that he has some knowledge about bacteria, viruses, and germ-free rooms.
"My background is microbiology, more than 35 years of learning about bacteria, fungi, viruses, and others so that they are familiar with what virus characteristics are and what makes germ-free spaces," he explained.
He said that the funds for making the booth came from community donations, including through the Whatsapp Sambat Jogja (Sonjo) group initiated by his colleague from FEB UGM Rimawan Pradiptyo, Ph.D. to produce 1 unit of swab booth costs around Rp. 8 million. In the production process, he collaborated with two MSMEs in Yogyakarta. In the meantime, production capacity is still limited to 10-15 units per week,
"In the current situation, we will soon produce 5 more swab rooms which will be distributed to several Covid-19 referral hospitals," he explained.
The swab booth developed by Jaka Widada is not only an alternative solution in overcoming the PPE crisis in supporting the swab patient test suspected to be Covid-19. The National Covid-19 Task Force has also checked the developed innovations for mass production cooperation.
"We all hope that this swab booth will be able to inspire young people to innovate as well as to develop even better ones to jointly overcome Covid-19," he said.
Author: Ika
Translator: Natasa A