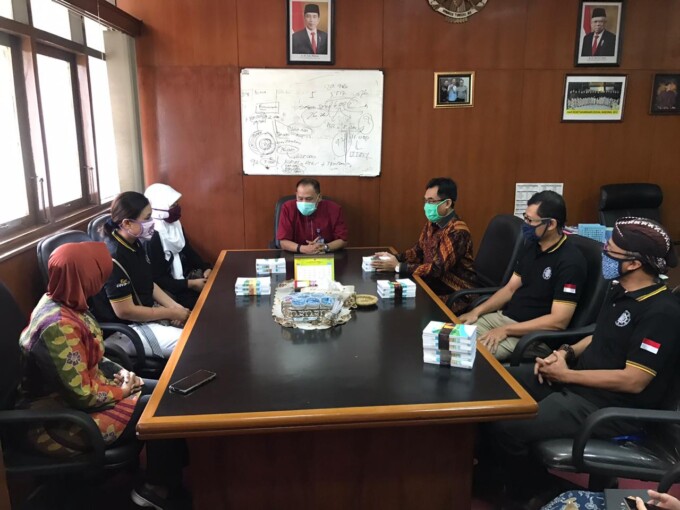 Universitas Gadjah Mada distributed the Covid-19 preventions handbook to the community in order to support the precautions of the Coronavirus spread. Not only in digital form distributions, but UGM also distributed the material within the handbook in the form of an actual book.
The commander of the UGM Covid-19 Task Force, Rustamadji, said this handbook is a contribution of UGM society to help the government in tackling the spread of covid in the community. He mentioned that he and his team had distributed the book through the Yogyakarta Provincial Social Service, Bulaksumur Sector Police, and Sleman District Police. "We also distribute it to communities around the UGM campus," he said on Wednesday (6/5).
The book, which consists of 29 pages, is printed in two versions, namely the Indonesian and Javanese versions. This book contains material about the introduction of Coronavirus, ways of transmission, signs, and symptoms, steps of prevention, recognizing OTG, ODP and PDP, quarantine and self-isolation, and procedures for making disinfectants.
Rustamadji said this handbook received a positive response from the public. The plan is that the book will also be distributed to the Disaster Preparedness Taruna (Tagana) group and the Karang Taruna community.
In addition to distributing handbooks, the Covid UGM Handling Task Force also actively encourages physical distancing, environmental disinfection, production, and distribution of hand sanitizers, PPE, and masks. "We are in resemblance doing health promotion directly to the community, the market, and supporting health workers by distributing PPE levels, 1, 2, and 3, as well as sharing cloth masks with the community," he said.
Furthermore, he also opened a psychology consultation room for the public to ask directly about covid and prevent stress during the pandemic. "We opened UGM Covid 19 call center, call center case management, and psychology. There are 750 more volunteers, and also a team of epidemiologists handled the call center," he explained.
Some aids and supports from UGM partners in the form of PPE utilized to support the LPPT and FKKMK Laboratories that run PCR tests and rapid tests of suspected covid patients from the UGM Academic Hospital and the Gama Medical Center Clinic. In fact, it provides rest facilities for medical personnel from the hospital. "For the rest of allied health needs, Task Force prepared a halfway house and hotel for their resting place," he said.
Author: Gusti Grehenson
Translator: Natasa A