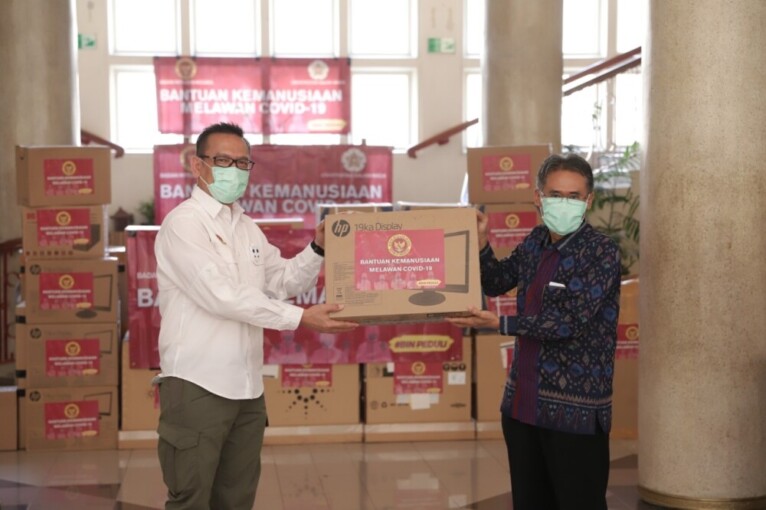 UGM-the Indonesian National Intelligence Agency (BIN) approved a Partnership Agreement on Education, Research, and Community Service related to Covid-19 and other virus Infections with UGM. Besides, both parties also engaged a memorandum of compromise related to the Research on the Acceleration of Infectious Disease Management with Potential Extraordinary Circumstances and Pandemic.
Komjen. Pol. Drs. Bambang Sunarwibowo, General Secretary of BIN RI, said that this collaboration was a form of government awareness to research institutions in Indonesia. He also stated that this awareness also offered to several institutions as a response to the Covid-19 pandemic situation.
"This pandemic considered a health problem, yet now it has spread to other fields, such as social, security, and economics. Therefore, this problem needs collaboration with some parties, including the community in general," he explained at the UGM Hall on Thursday (7/5).
Bambang said that he chose UGM because he saw the potential of his Research. According to him, currently, UGM is also very active in carrying out various efforts related to Covid-19 handling. "Therefore, we believe that UGM will bring positive results and be able to maintain the integrity of the nation and state of Indonesia," he hoped.
Responding to this, the UGM Rector, Prof. Ir. Panut Mulyono, M. Eng., D. Eng., IPU., ASEAN Eng., expressed his gratitude to BIN. He said UGM had abundant human resources, including experts related to viruses and diseases. However, he admitted that UGM still lacks supporting research facilities compared to developed countries.
"Countries in the world are currently competing to conduct Research to find the Covid-19 vaccine. We, at UGM, are also arranging this Research, but we are still struggling due to a lack of facilities. Using this support from BIN, I believe it can strengthen researches at UGM and facilitate engagement to find this Covid-19 treatment. Thus the roots of Indonesia's problems will soon be overcome," he concluded.
Author: Hakam
Photo: Firsto
Translator: Natasa A