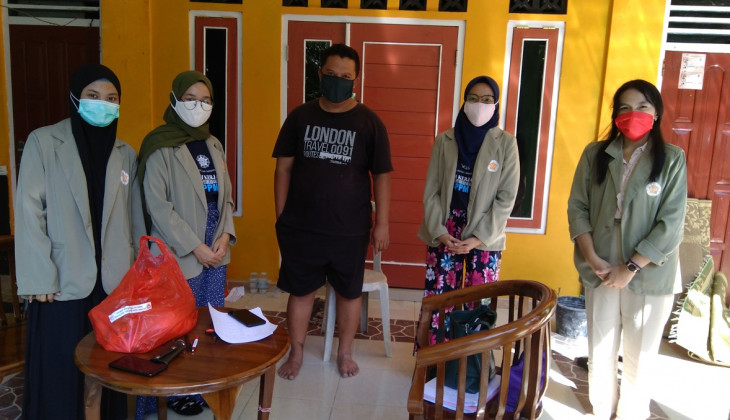 Hargotirto Unit of UGM Community Service Program consisting of Dinda (Faculty of Cultural Sciences), Atika (Faculty of Philosophy), Rini (Faculty of Philosophy), and Vindy (Vocational School) under the guidance of DPL Dwi Umi Siswanti, S.Sc., M.Sc, distributed aids of 100 food packages from Foodbank Of Indonesia (FOI) in collaboration with PT. Heinz ABC Indonesia on Friday (5/22). The recipients of this support are the elderly citizens in Hargotirto, Kokap, and Kulon Progo. They got this aid because, previously, they have not ever received assistance at all.
"Students of the Hargotirto Unit Community Service Program who are actively running the Community Service Program online, are also actively looking for help loopholes for residents of our KKN locations," Dwi Umi said on Wednesday (5/27).
Students accompanied by Foodbank of Indonesia volunteers deliver aid directly to residents of Nganti and Teganing 3 Hargotirto.
"This pandemic is estimated to be still long. I predict it will be October at the latest. This assistance brings KKN students closer to the residents even though the KKN is done online," said Aan, Head of the Nganti Hamlet, Hargotirto.
Through a short message, Wiwid, Chairman of PKK Nganti, also expressed his gratitude to the KKN Hargotirto Unit for distributing assistance to residents because the support was very beneficial for residents in the current conditions.
Meanwhile, assistance in Teganing III was also received directly by Andi, Head of Teganing III Hamlet. According to Andi, some of the food packages will be given directly to residents who have not received any assistance, and the rest will be given after Eid.
Author: Satria
Translator: Natasa A