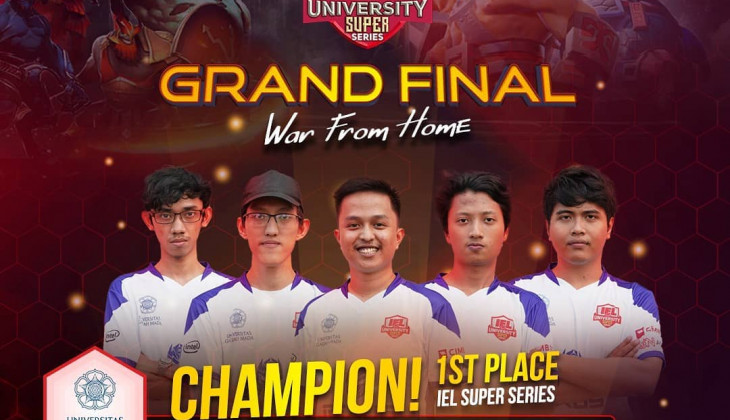 The UGM PRIDE team won the first award in the DotA 2 game from the Indonesia Esports League (IEL) University Super Series on June 11-12, 2020.

The UGM Esports team won the DotA 2 branch after a 2-0 won over Kwik Kian Gie School of Business in the grand final match.

"The UGM PRIDE team succeeded to proceed to the grand final round after a landslide victory with a score of 2-0 over the University of Indonesia (UI) Esports Team. In final, they also managed in conquering the Kwik Kian Gie School of Business team with a score of 2-0," said one member UGM PRIDE, Erwin Ginting, on Tuesday (16/6).

Erwin said UGM PRIDE consisted of two different teams that oftentimes win the competition. The reason why that the team merged indeed intends to strengthen the team in the IEL event. The team formed in September 2019 consisted of Hasyim Muhammad (Faculty of Engineering), Michael Edrick (FMIPA), Muhammad Amin (Faculty of Economics and Business), Julian Edo Hartono (FMIPA), Cahya Bela Nuswantara (Faculty of Cultural Sciences), and Erwin Ginting (Faculty of Law)

He drafted the pattern of DotA 2 games similar to conventional sports, such as chess. The difference is that in a chess game, one player controls all the pieces, namely warriors, queens, kings, horses, and fortresses, but in DotA 2, each player control one piece. In DotA 2 itself, those five pieces termed as heroes. The task of this hero is quite simple; to destroy the base or base of the opposing team.

"Herein lies the fun of the DotA 2 game, each hero has its game function. Some act as the main attackers, team protectors, attacker supporters, or be the healers of attacks and restore the state of battle," added Erwin Ginting.

Similar to chess, DotA 2 games have a game system. Before the player can destroy the opponent's base, players are also required to kill the opponent's fortress/attack tower. When all the castles are gone, new players can enter the royal environment and destroy the enemy base.

In the IEL competition, the UGM team also sent members to compete in the Free Fire branch. However, in this branch UGM team only won in the ranked 4th.

"Being in 4th place in the final is more than enough, even though we have not much difference in score with the 3 rd champion," said Apriliandi (Vocational School) as the captain of the Free Fire Team and Chairman of UGM Esports Community.
Besides Apriliandi, other members also strengthen UGM Free Fire Team itself. They are Ilham Syach Reza (Faculty of Forestry), Bambang Abdullah (FEB), Ghulam Saaf (Faculty of Animal Husbandry), and Dian Anggraini (Faculty of Pharmacy).

The final and grand finals previously planned to be held at the Liga game Esports Arena in West Jakarta on April 11, 2020. However, due to the Covid-19 pandemic, the implementation had to be postponed and carried out from their homes.

Abyzan Syahadin (FISIPOL), as the founder and supervisor of UGM Esports Community, also appreciated UGM's victory in the IEL - University Super Series.

"Esports is new territory for wherever it is, including at UGM itself as an educational institution. Therefore, the UGM team's victory in the national esports event between universities is a breakthrough in achievement," Abyzan said.

Indonesia Esports League - University Super Series is an official national level esports tournament held under the supervision of the Indonesian Olympic Committee, the Indonesian National Sports Committee (KONI), the Ministry of Youth and Sports (Kemenpora), and IESPA (Indonesia Esports Association). In 2020, IEL has entered the second season mat, which was attended by 24 universities throughout Indonesia.

Author: Ika
Photo: Instagram @esportsleagueid
Translator: Natasa A