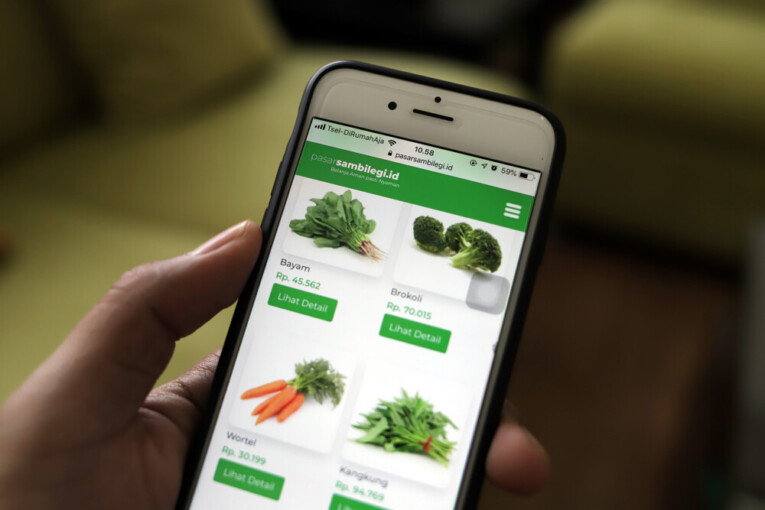 Covid-19 Pandemic has a notable impact on various activities in daily life, including one of the shopping activities in traditional markets. On the one hand, traditional markets must continue to maintain economic sustainability and fulfil basic food needs. On the other hand, physical interaction that still dominates shopping patterns in traditional markets also makes it vulnerable to the rapid spread of viruses.
Therefore, the Team of Devotion to the Emergency Response Society of Covid-19 Faculty of Social and Political Sciences, Universitas Gadjah Mada (FISIPOL UGM) developed the Sambilegi Online Market via the website https://pasarsambilegi.id. This activity was in collaboration with the Center for Community Economic Studies (Pustek) UGM.
The location of Sambilegi Market is in Maguwoharjo Village, Depok District, Sleman Regency. This market includes the class B market, which is a market that sells a variety of vegetables, fruits, chicken meat, cooked snacks, spices, to items such as kitchen equipment, clothing, and other household needs. Regarding market security, Pasar Sambilegi won first place at the national level as the Safe Market of Dangerous Substances in 2018.
"Traditional markets are one alternative that is still popular for food shopping and people's daily needs. During a pandemic like now, there should be systematic efforts to reduce the risk of transmission or spread of the virus in traditional markets," said the team leader, Dr. Hempri Suyatna, S. Sos., M.Sc., Thursday (6/25).
Besides Hempri, other members of the dedicated team are Achniah Damayanti, MA, Puthut Indroyono SIP, Matahari Farransahat, M.HEP and Rindu Firdaus, SIP. Besides making it easier for Sambilegi Market traders, Hempri said the site also makes it easy for customers to access various kinds of information, such as the name of the product along with its photo, product prices, to order status. In fact, in the transaction process, customers can choose the delivery time so that customers are free to adjust to their needs.
Transaction activities at the Sambilegi Online Market can be accessed by residents in the Sleman Regency area. Such areas are Maguwoharjo, Caturtunggal, Condongcatur, Purwomartani, Tirtomartani, Selomartani, Tamanmartani, Kalitirto, Tegaltirto, Sendangtirto, Jogotirto, Banguntapan, Minomartani, Bokoharjo, and Madurejo.
To ensure the quality of service, Hempri said that the operational activities and delivery of Sambilegi Online Market goods would be carried out by a particular team consisting of members of the Sambilegi Market Pre-cooperative and the Sambilegi Market Traders Association. The appointment, according to him, aims to empower them through various assistance based on the jargon "Safe Shopping is Convenient".
"Because there are some various assistance efforts so that the quality of service can be maintained until the goods reach the customers safely," concluded the lecturer of Social Development and Welfare of the UGM Social Sciences Faculty.
Author: Hakam
Translator: Natasa A