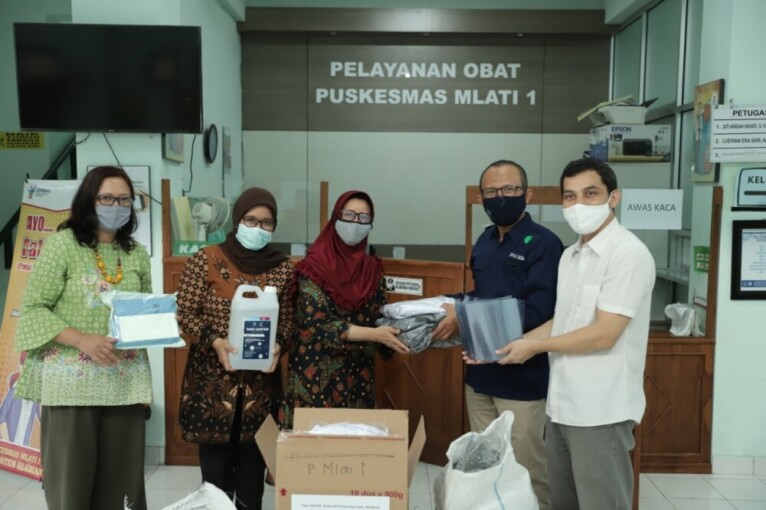 UGM Disaster Response Unit (DERU UGM) collaborates with the New Zealand Ministry of Foreign Affairs and Trade in the context of emergency response efforts to encounter Covid-19 pandemic. Starting in early June until today, DERU UGM has distributed personal protective equipment (PPE). This PPE could be in the form of protective suit coveralls, goggles, face shields, head caps, surgical gown kits, surgical masks, N95 masks, shoe covers, and hand sanitizers and disinfectant to health facilities that need it.
This form of effort aims to support and facilitate medical personnel who have strived to fight Covid-19. The distribution of PPE also proposes to help some health units in areas that have not been able to meet the PPE equipment for the safety of medical personnel in providing services to the community.
DERU UGM with the New Zealand Ministry of Foreign Affairs and Trade plans to distribute PPE covering Yogyakarta and surrounding areas, Central Java, East Java, Sulawesi, to eastern Indonesia. One of them is the Mlati I Health Center in Sleman.
On Thursday (9/7), Prof. Ir. Irfan Dwidya Prijambada, M. Eng., Ph.D., Director of Community Service at UGM, represented the distribution of PPE. He stated that the Mlati I Health Center was chosen because of its location, which is nearby UGM.
"So far, we have distributed a lot of assistance, both PPE and other equipment, to various regions to support the handling of Covid-19. However, some parties often missed the health clinic (puskesmas) to get support, although it is our closest health clinic. Therefore, through this opportunity, we want to make sure the nearest neighbours receive help first," he said.
Irfan hopes that in the future, this kind of PPE distribution can be comprehensive throughout Indonesia to help health facilities that have difficulties in obtaining PPE. This effort supports the health facility, and its medical staff are ready to carry out their work under established protocols and SOPs.
Nevertheless, the Head of the Mlati I Health Center, Dr. Ernawati, expressed her gratitude for this help. According to her, this assistance was not the first support given to the health clinic (puskesmas). Previously, there was assistance from UGM, but this time it was not as complete as hand sanitizer.
Erna said Mlati I Health Center would be best utilized this support to optimize patient care. "We absolutely need this PPE equipment. Thus, it is so beneficial for patients, and health workers feel safe when they are here. Therefore, I truly appreciate the efforts of UGM, "he said.
Up to this day, DERU UGM and the New Zealand Ministry of Foreign Affairs and Trade have distributed 540 face shields, 1250 protective suits/hazmat covers, 130 medical masks, 420 N95 masks, 355 surgical gowns, 430 head caps, 230 hand sanitizers, and 250 disinfectants distributed to 23 health facilities in Yogyakarta and surrounding areas. They will keep conducting this support distribution to some health facilities in the surrounding regions until the Covid-19 pandemic ends.
Author: Hakam
Photo: Firsto
Translator: Natasa A