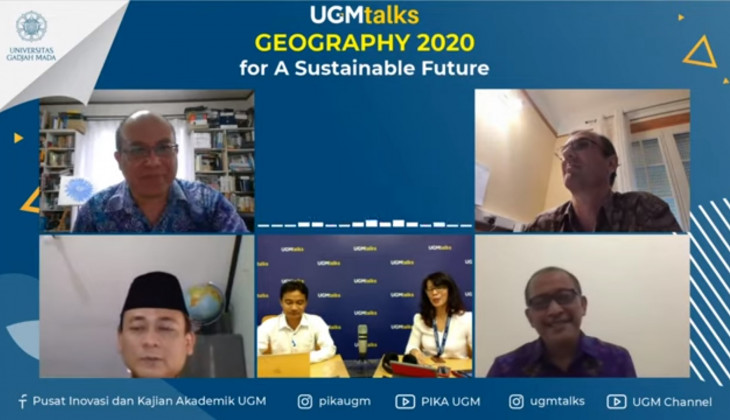 Prof. Aris Marfai as the Dean of the UGM Faculty of Geography, revealed that Geography Field must be able to respond to the rapid development of the world.
He said that the latest UGM Talk entitled Geography 2020 for a Sustainable Future as part of a series of UGM Geography Faculty Anniversary events on Saturday (11/7).
"The world is undergoing extraordinary advancements; all quick expanding are characterized by volatile or turbulent. We must be able to respond to this, many things we need to think about, " Aris said.
Amid uncertainty and ambiguity in various fields, according to him, geography as a field of science requires to take steps to continue developing. The geography field needs to grow in developing various forms of science-based on current needs.
The UGM Faculty of Geography itself has begun to link and match with the industry to improve science to be in harmony with the industry.
"We are trying to enhance science in harmony with the industry, how to make our products to be absorbed in the industry," he added.
Besides, the Faculty of Geography also attempts to equip students with collective multidisciplinary knowledge, as well as facilitate students to have a larger discussion space outside the classroom. The lecture method developed to be more interactive.
"We realize that learning usually a lot happened outside the classroom, so we need to provide these facilities to students," said Aris.
In the Quacquarelli Symonds ranking released some time ago, UGM still ranked number 1 in the field of Geography in Indonesia and ranked 4th at Southeast Asia and 32nd in Asia. Aris said that this fact intended that the UGM Faculty of Geography was still a centre of excellence in geography in Indonesia.
On the same occasion, a researcher at the Center for the Environmental Remote Sensing "CeRes" Chiba University of Japan, Prof. Josaphat Tetuko S. S., motivated researchers and UGM students to continue to develop research that would benefit Indonesia.
He also reminded UGM students never to stop learning because the field of geography is very broad and contains many things to be further explored.
"In 100 years of Indonesian independence, it is necessary for us to be able to rule the world with our respective fields. Therefore, from now on, we need to study hard as preparation to welcome Indonesia in 2045," he said.

Author: Gloria
Translator: Natasa A