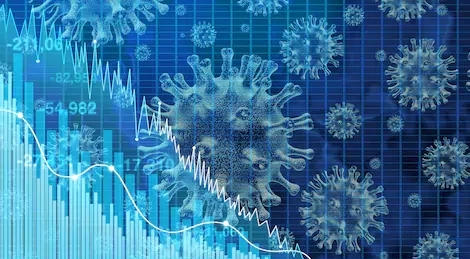 Economic recession due to the Covid pandemic19 predicted to afflict many countries in the world, including Indonesia. UGM economic expert, Dr. Eddy Junarsin, said that the performance of economic growth in the third quarter (July-September) 2020 became a determinant of the condition of the Indonesian economy. If Indonesia has experienced negative economic growth during the second quarter, it means Indonesia is unavoidable to encounter a recession.
"In the second quarter or April-June 2020, Indonesia's economic growth is projected to be minus between -3.5 per cent to -5.1 per cent. Therefore the third quarter is vital, if the status of economic growth remains negative, then Indonesia will be in a recession," he said on Wednesday (7/15) afternoon.
Eddy predicts that Indonesia's economic growth in the third quarter will still return negative and enter a recession if the government does not take more accurate and consistent policies in dealing with the coronavirus outbreak in the country. Moreover, it could be worse if the country will undergo a prolonged recession.
"If the handling policy is slow or out of sync, it will have a prolonged effect, and the condition of our economy will get worse. The recovery time will also be longer, so Covid-19's handling needs to be immediately improved," explained the lecturer at the UGM Faculty of Economics and Business (FEB).
To get out of the recession, Eddy said the government needs to provide stimulus by establishing social safety networks and incentives for businesses, especially if the national PSBB policy is implemented totally in a short period. Meanwhile, monetary stimulus with reduced interest rates expected to be able to attract investors to re-expand the business.
"In the short term, we need to undertake an emergency method of buying back government securities by Bank Indonesia (quantitative easing) to support the economy in order not to paralyze. The consequences will indeed cause inflationary pressure in the next year, but hopefully, the economy can improve afterwards," he explained.
He said if the government could immediately deal with the Covid-19 outbreak properly and the pandemic subsided, it was estimated that Indonesia's economic growth would begin to be positive again in the fourth quarter. Conversely, if the government fails, it will pose social risk risks due to high unemployment and poverty.
"If the recession lasts 1-2 quarters, the resilience of the government and the community may still be maintained, but if more than three quarters the potential for the emergence of social unrest is quite huge," he said.
Eddy said that Indonesia had experienced a recession in the 1998 crisis period. However, this period was different from the current conditions.
"The 1998 recession in general only beat the Southeast Asian region. Currently, the situation is worse, because it has befallen the entire world so that the recovery will be more complex," Eddy said.
Author; Ika
Photo: Shutterstock.com
Translator: Natasa A