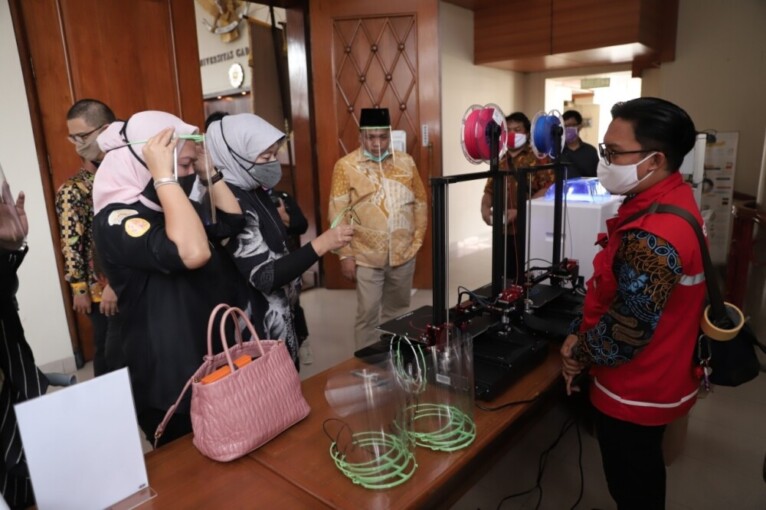 UGM welcomed a visit from the House of Representatives Commission IX on Friday (7/17) at the Senate Hall. During this visit, members of the House Representative directly observed UGM innovative products that are beneficial for the handling of Covid-19.
Deputy Chairman of the House of Representatives Commission IX, Emanuel Melkiades Laka Lena, gave appreciation to UGM researchers who were able to produce innovative research products and had contributed efforts to increase the nation's independence through domestic production.
"We reckon that we should visit UGM because we know that UGM is one of the campuses that produce valuable discoveries in this country. We need to push back domestic production as the ideals of our independence," he said.
Emanuel said the handling of Covid-19 needed to be based on research. Therefore, the House of Representatives Commission IX is ready to provide support to UGM to downstream research products so that those can be produced massively and used in hospitals and health care facilities throughout Indonesia.
"Please tell us what support we can provide. We will try to collaborate UGM products with politics so that the state budget can be used for Covid's needs," he said.
He also encouraged the synergy between universities and industry. Besides, he explained domestic products related to Covid-19 handling needs to be developed jointly by researchers and the private sector so that the production process can be run well and directly absorbed by the market.
"This is a favourable atmosphere, a synergy together to develop the country," said Emanuel.
UGM Vice Chancellor for Cooperation and Alumni, Prof. Dr. Plenary, presented several UGM innovations in the handling of Covid-19. There are two types of ventilators called Ventilator Indonesia (VENINDO). It aims to meet the needs of the management of respiratory failure due to the Covid-19 virus which has been declared to have passed the functional test by the Health Facilities Safety Office and currently in the clinical trial process.
Besides, UGM also developed Genoese Vid, an electronic nose that functions as a rapid diagnostic tool for Covid-19 patients with a working principle based on the human olfactory system and some other research products.
He explained that UGM innovation was oriented to the creation of added value to help solve various community problems. Several UGM innovations developed in the Science Techno Park container, which he called the UGM innovation house.
"The resulting innovations have an urgency to be immediately adopted and disseminated and aligned with national strategic priorities with academic, industrial, and community-based approaches," he explained.
According to him, to be able to develop this innovation, UGM needs support related to 3 things. They are the acceleration of the licensing process and standards from the Ministry of Health, the Ministry of Industry and BSN, the support of further research funding to scale up on an industrial scale, and the acceleration of the procurement process for government goods.
"It would be our pleasure if we can help in these three things," he said.
On the same occasion, the Chancellor of UGM, Prof. Ir. Panut Mulyono, M.Eng. D. Eng., Revealed that through many innovations developed, UGM seeks to increase national independence of imported products, even though many components used in UGM's innovation products are still imported from abroad.
He also requested the willingness of the House of Representatives Commission IX to jointly strive for this so that Indonesia could win the competition in an era of increasingly tough competition.
"We should keep on trying something this such beneficial so that the country can advance and win global competition," the Chancellor said.
Author: Gloria
Photo: Firsto