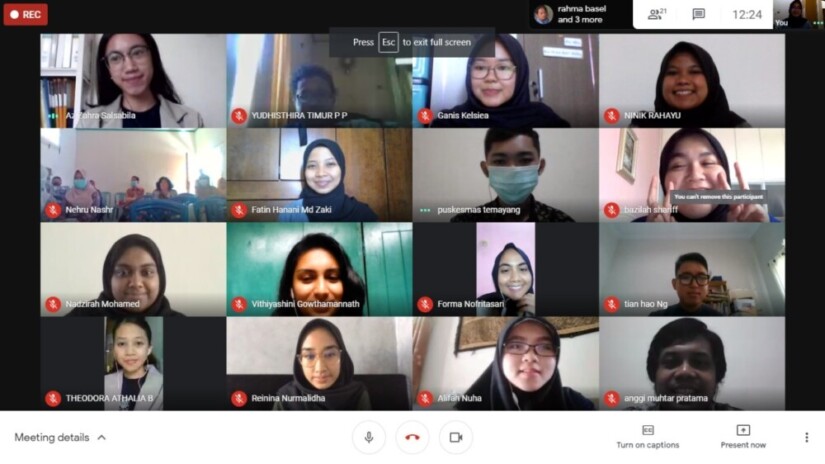 UGM Student Community Service Program, particularly for Sayang Temayang Bojonegoro 2020 Team conducted a safe slaughtering of sacrificial animals during the New Normal period. This activity conducted through the Webinar entitled "Strategy on How to Slaughter the Sacrificed Animals during New Normal Era?" online on Thursday (7/23).
There were also speakers in the webinar. They were drh. Agung Budiyanto, M. P., Ph. D., from FKH UGM and Moh. Habib Hidayatulloh, S.K.M. from Temayang Health Center.
In his remarks, Agung Budiyanto conveyed the right procedures or protocols for the sacrificial committee and how they slaughter the animals during the pandemic. This substance is also relevant to Islamic law, according to Shari'a, the characteristics of the selection of healthy and correct livestock, and other sacrificial techniques.
"During this pandemic, the sacrificial animals must implement health protocols," said Agung.
Meanwhile, Moh. Habib Hidayatulloh, S.K.M. from the Temayang Health Center conveyed the latest information from WHO and the Ministry of Health about the number of Covid-19 patients, including the updated number of Corona cases in Temayang Subdistrict, Bojonegoro. Habib also explained the terminology such as PDP, ODP, being a suspect case, probable cases, and others.
The substance material then proceeded by socialization from UGM Community Service Program students about the procedures for slaughtering the sacrificial animals during the pandemic. There were also distributions of posters and video socialization through social media. Later, those outputs also are given to the local community.
Author: Satria
Photo: Sayang Temayang KKN Team
Translator: Natasa A