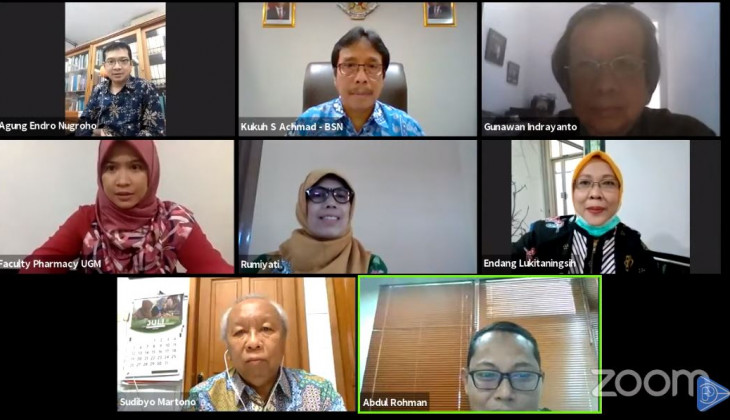 Drs. Kukuh Syaefudin Achmad, M.Sc., as the Head of the Indonesian National Standardization Agency (BSN) said that amount of 1,421 testing laboratories had received accreditation from the National Accreditation Committee. "Since 1998 until this moment, KAN has accredited 1,421 laboratories as testing laboratories," said Kukuh in the Webization Standardization and Quality Assurance in Chemical Analysis Laboratories organized by the UGM Faculty of Pharmacy on Wednesday (29/7).
Besides testing laboratories, KAN also accredited 321 calibration laboratories, 75 medical laboratories and 24 proficiency testing providers. According to him, a laboratory that has got standardization and adjustments from KAN means that it has been approved internationally. "When KAN conducted laboratory accreditation process to some laboratories, it means international institutions also approved those laboratories," he explained.
According to him, laboratories are necessary to get recognition of standardization based on the mandate of Law No. 20 of 2014 concerning Standardization and Conformity Assessment. "BSN is a party that manages standardization. Meanwhile, accreditation is managed by KAN, while the metrology is also from BSN," he said.
Laboratories that pass the accreditation assessment will later receive ISO 17025 and among others meet the competency assessment criteria, impartiality and consistency of laboratory operations, and are used to confirm or recognize competence by the customer.
Prof. Dr. Gunawan Indrayanto as University of Surabaya Pharmacy Lecturer said that the validation method applied in a laboratory could encourage quality improvement in the quality of laboratory standards for the drug, food and cosmetics industries. However, the ability of HR, the methods and materials tested also influence each other. "If the standard analysis and tools used are good, but the materials used are not good, it will not be useful," he said.
UGM Pharmacy Lecturer, Prof. Dr. Sudibyo Martono, said the process of documenting and tracking samples need to be prioritized by the chemical analysis laboratory to gain recognition and trust from users. Documentation is essential if there are people who need to know the specific work that has been conducted, we convey the SOP, work methods and analysis with work procedures so that they are trustworthy," he said.
Author: Gusti Grehenson
Translator: Natasa A