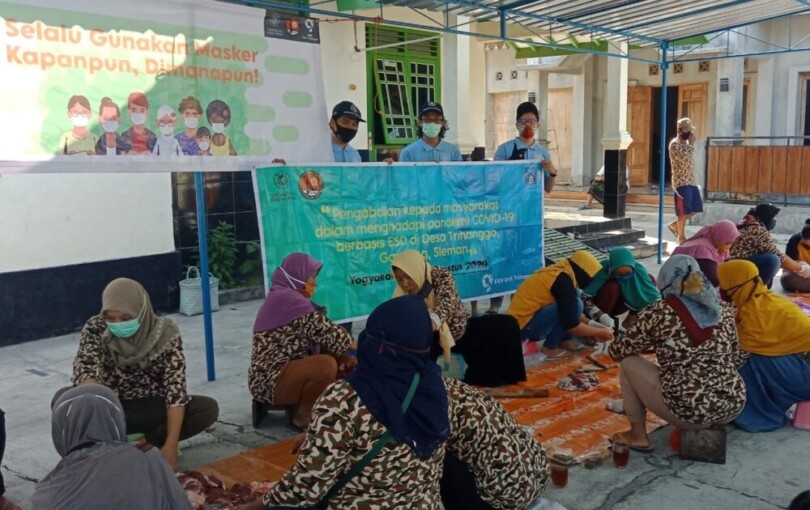 Dr. Suherman as UGM MIPA Lecturer organized a community service program entitled ESD-Based Coed-19 Disaster Response (education for sustainable development) in Kronggahan Hamlet, Trihanggo Village, Gamping, Sleman.
This program is relevant to the government's recommendations during the Covid-19 pandemic. It aims to enlighten the public on the importance of implementing health protocols when conducting animal sacrifices and Id prayers.
"Indeed, this program still cooperates with local management of Neighbourhood/Community Association," Suherman said on Sunday (2/8).
They conduct some preventive ways to anticipate the buildup of the masses when Eid al-Adha. It begins by checking the location of the Id prayer into several points by implementing physical distancing and also strict health protocols. The community is necessary always to wear masks and personal prayer rugs. Besides, there would be a shortened duration of worship. There is also a recommendation for the prayers to return to their respective homes immediately after praying.
"Furthermore, when conducting animals-slaughtered, which are usually in one of the mosques, this time 15 cows distributed into 6 RW-based points," he said.
Suherman also emphasized the importance of the availability of PPE (personal protective equipment) in the form of masks, gloves, hand sanitizers, and soap when conducting animals-slaughtered, as well as cutting meat, weighing, wrapping, and distributing it to the community.
This health protocol practice became one of his concerns after a week before the health protocol socialization was given at social and routine meetings of Kronggahan Hamlet RT-RW residents online. Beforehand, he also appealed the implementation of the New Normal by appealing banners designed by Trihanggo Unit KKN-PPM students.
Author: Hakam
Photo: Suherman
Translator: Natasa A