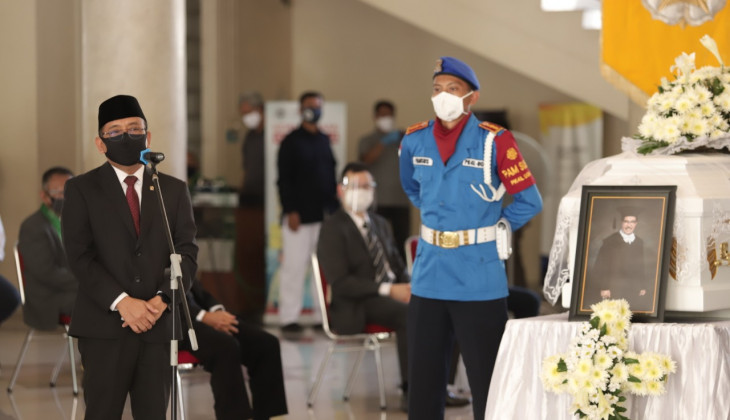 Prof. Dr. Cornelis Lay, MA., as the Professor of the Faculty of Social and Political Sciences UGM, passed away on Wednesday (5/8) at Panti Rapih Hospital, Yogyakarta. The man known as Mas Cony passed away at the age of 61, leaving behind to one wife and two children.
UGM Chancellor, Prof. Ir. Panut Mulyono, M.Eng., D.Eng., said that Cornelis Lay is one of UGM intellectuals. He has contributed to a lot of developments in government and political science education.
"He is a great hero and intellectual in the fields of government and politics at the Faculty of Social and Political Sciences. He owned big thoughts that can be seen in the book he wrote and his Professor's inauguration speech last year," said the Chancellor at the burial ceremony at the UGM Hall on Thursday (6/8).
In his remarks, the UGM Chancellor quoted Prof. Cornelis Lay's speech at the inauguration ceremony of the Professor on February 6, 2019, entitled The Third Way of Intellectual Roles: Convergence of Power and Humanity. According to the Chancellor, Cornelis expressed a reflection of his thoughts. It is about intellectual positions when dealing with power.
"According to him, intellectuals must be aware of the various political forces that can affect curriculum formation, academic appraisal and thinking, and their relation to humanity," the Chancellor said.
One of the messages conveyed by Cornelis Lay said the Chancellor; an intellectual must deliver all the truths he knows and never hide in lies. "His message is that the greatest sin of the intellectuals lies in revealing the truth they know," he said.
In the UGM Chancellor's eyes, Cornelis Lay is a true nationalist and a man who always looked friendly and smiling. "I know him as a nationalist figure, warm, friendly, nurturing, and caring person," he said.
Meanwhile, the Chair of the UGM Board of Trustees (MWA), Prof. Dr. Pratikno, M.Soc.Sc., said that he accurately represented President Joko Widodo to attend the funeral ceremony and last respects to Cornelis Lay. "The President expressed his deep condolences to Mr. Cony," he said.
Pratikno said that Cony's passing was a loss for the UGM academic community and the political realm in Indonesia. "Not everyone is friendly to him from a political viewpoint. There must be many competitors and political opponents. But I am sure he is a great hero in politics," he said.
Pratikno also quoted President Jokowi's writing in a biographical book dedicated to Cornelis that was published last year. He said, "I know Mas Cony well as an academician, thinker, and always critical, is not induced by sparkling positions. He never dragged by the flow of power, and always endeavor humanity," he concluded.
Dean of the Faculty of Social and Political Sciences UGM, Prof. Dr. Erwan Agus Purwanto, also read Cornelis' history, he was born in Kupang, September 6, 1959. He completed his undergraduate education in government science at UGM in 1987, having a master's degree at Saint Mary's University Canada, United States in 1992, and doctoral education in Political Science in 2015.
He started his job as a lecturer in 1988 and gained the position of Professor in 2018. Besides being a lecturer, during his lifetime, he served as Head of the Bureau of Government and Domestic Politics at the Deputy for Politics, Secretariat of the Vice President in 2000-2004, Chair of the Department of Science UGM Faculty of Social and Political Sciences Administration in 2007-2011 and Assistant Dean for Research and Community Service, Faculty of Social and Political Sciences UGM in 2009-2010.
Author: Gusti Grehenson
Photo: Firsto
Translator: Natasa A