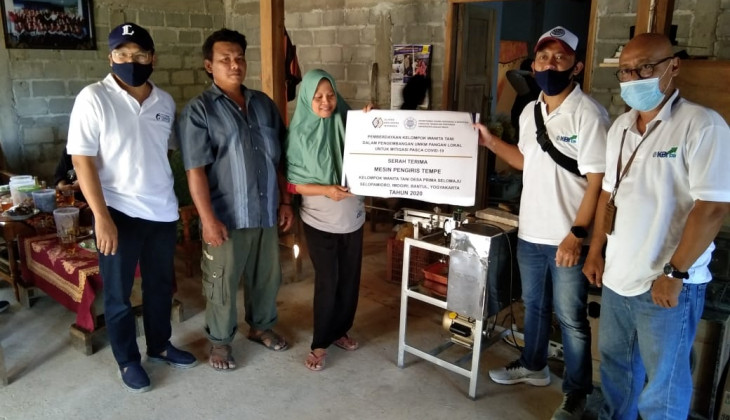 Universitas Gadjah Mada, precisely Department of Agricultural and Biosystem Engineering, Faculty of Agricultural Technology (DTPB FTP UGM), initiated an empowerment program for the Women-Farmers Group in Selopamioro Village, Imogiri District, Bantul. This project has been the main objective of promoting local food MSMEs, especially in post-Covid-19 mitigation efforts.
"We focus on the activities of community service. It aims to strengthen the capacity of local food MSMEs in Selopamioro," explained the Head of the Department of Agricultural Engineering and Biosystems, Faculty of Agricultural Technology UGM, Prof. Dr. Ir. Lilik Sutiarso on Thursday (6/8) at the launch of the event.
He said that through this program, the community hopefully could be independent and increase the capacity of women farmer groups in running local food MSMEs. This program is beneficial because the women farmer groups can contribute to supporting the development of the agro-tourism area in Selopamioro Village.
Since 2015, indeed, there have been activities of mentoring and fostering MSMEs in Selopamioro Village established. In its implementation, UGM has a partnership with the Yanmar Environmental Sustainability Support Association (YESSA) Japan and PT. Indonesian Derivatives Clearing House (KBI). There are several activities carried out. They include the introduction of agricultural technology (appropriate tools and machines), increasing the capacity of production aspects, quality, and food safety to marketing.
The post-Covid-19 Woman-Farmers Group program's launch is a form of kick-off for community service activities of DTPB FTP UGM. There was also support to crushing soybeans and chopper for tempeh / pare to three MSME players in Selopamioro.
"Selopamioro Village has the potential for local resources based on the agricultural sector. However, the Covid-19 pandemic has affected the economy of the people here similar to other areas," he explained.
He also hopes that this MSME development program will empower MSMEs to produce local food, which is a superior commodity, such as packaged juice, tempeh chips, bitter melon chips, banana chips, fruit ice cream, and others. But also, hopefully, it can further extend the capacity of local food MSMEs in Selopamioro.
Author: Ika
Translator: Natasa A