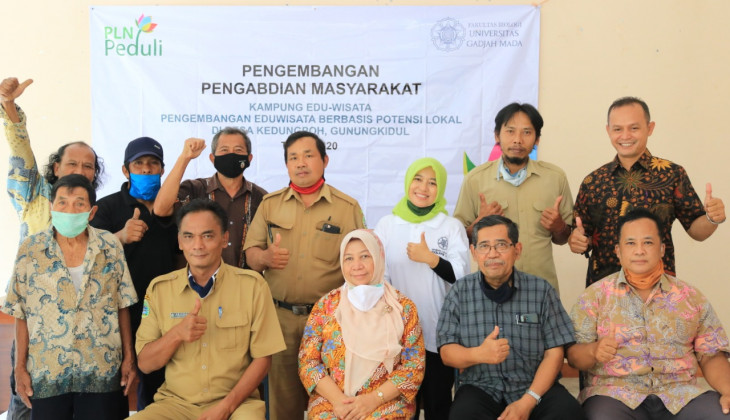 The Faculty of Biology UGM community service team led by Dr. Hari Purwanto, MP, Soenarwan Hery Purwanto, S.Si., M.Kes., And Dwi Umi Siswanti, S.Si., M.Sc., conducted a community service program in Kedungpoh Village, Nglipar District, Gunung Kidul.
Supported by funding from PLN's CSR, since early 2020, this team has developed Kedungpoh to become an Educational tour village based on local potential, one of which is by conducting training on the production of biofertilizers made from cow urine and microbial originators from Dwi Umi's research.
"I have been researching biofertilizers since 2010. This fertilizer can increase rice plants' productivity with a dose of 10 liters/hectare," Dwi said.
She also explained that biofertilizer is targeted to reduce agricultural production costs to increase farmers' welfare.
The training activity itself was organized on Monday (24/8). There are also attendants from members of the Farmers' Group and Kedungpoh Village officials and the Kedungpoh UGM SCS-CEL students group.
On this opportunity, Drs. Trijoko, M.Si. also gave assistance and counseling on Gama Ayam. Meanwhile, Dr. Siti Sumarmi shared the recipe for enting-enting honey, honey beans, and honey popcorn.
The initiation of making Kedungpoh outstanding food was prepared as a typical souvenir of Kedungpoh, which has been known as a natural honey-producing village. In fact, it can be purchased by educational tourists.
"Hopefully, later, the peanut and corn farmers can participate in accomplishing an educational village," Dwi added.
Beforehand, the Biology Faculty Service Team had assisted in some ways, such as processing organic waste into vermicompost, making fertilizer production houses, and providing colony assistance and 75 boxes of honey bees for members of the Sari Alami Kedungpoh Farmer Group. At the same time, there is also assistance in increasing honey production and quality.
Dwi revealed the Community Service Program, in collaboration with PLN, is proposed to continue in 2021. Some work plans have been designed. They include the creation of a Joglo Education, increasing the diversity of honey bee forage plants, conservation of endemic orchids and butterflies, integrated organic farming applications with biogas, organic fertilizer branding, and the creation of a Kedungpoh Edu tour website.
"We have a target to actualize Kedungpoh as an educational village in three years. This manifestation is a form of sweet synergy between universities and CSR, which both have a sense of dedication," he said.

Author: Gloria
Translator: Natasa A