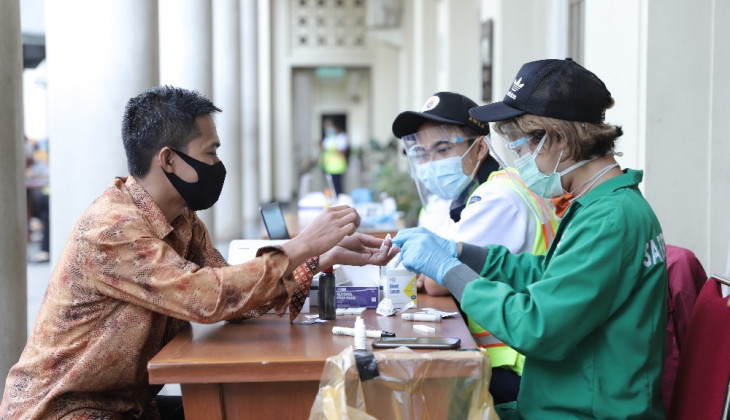 Universitas Gadjah Mada (UGM) conducted a massive rapid test for more than 500 employees at the UGM Central Office Building from 31 August to 4 September 2020.
dr. Fitriana, M.Sc., FM., as a secretary of the UGM Covid-19 Task Force, said that the implementation of rapid tests for employees is a promotive and preventive step to prevent Covid-19 transmission in the work environment. Besides, it is also considered a form of support for employees' health services during the pandemic.
"This rapid test was conducted as the initial screening of Covid-19," she explained on the rapid test sidelines at the 1st Floor Hall South Wing of the UGM Central Office Building on Monday (31/8).
She continued that if there are reactive rapid test results later, the employee concerned will be immediately followed up with the next test in the form of a Polymerase Chain Reaction (PCR) test. As they are waiting for the swab test results, employees with reactive rapid test results appealed to carry out self-quarantine.
"If some of them have reactive results, we will follow them up to UGM Academic Hospital to conduct a swab test," she said.
Fitriana explained that the rapid test conducted is based on health protocols, such as implementing a safe distance, ensuring the use of masks, checking body temperature, and maintaining cleanliness by providing a hand sanitizer and a sink for washing hands.
Meanwhile, UGM HR staff, Argarina, as one of the rapid test participants, felt anxious because this is her first time doing the test.
"Yes, I was so nervous. Even now, I still feel anxious, waiting for the results. Hopefully, it won't be reactive," Argarina hoped.
Author: Ika
Photo: Vino
Translator: Natasa A