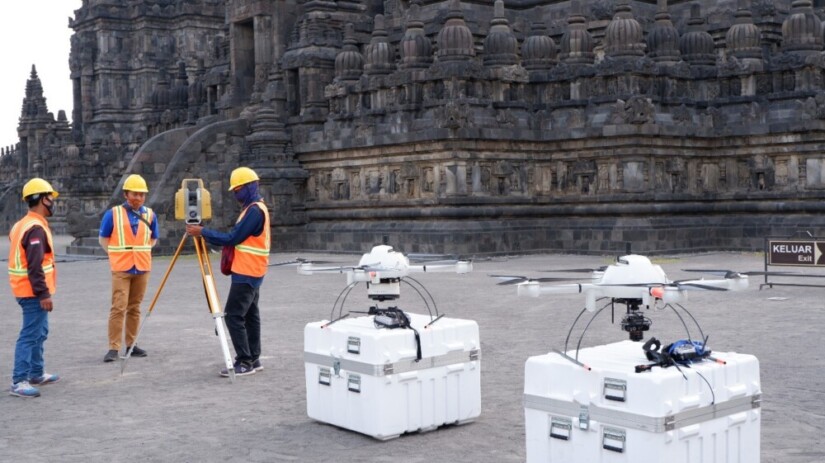 The Basic Survey and Mapping Technology (TSPD) of UGM Applied Undergraduate Study Program Vocational School has settled efforts to preserve Prambanan Temple from a geometric perspective by observing the temple's movement or deformation, documenting the 3D shape of the temple in detail, thoroughly and up to date.
Collaborating with the Yogyakarta Cultural Heritage Conservation Agency (BPCB), TSPD Study Program conducted research activities on Deformation Monitoring and 3D Digital Documentation of Prambanan Temple using the Lidar Drone and Terrestrial Laser Scanner on Tuesday (31/8).
"This research supports sophisticated tools in the form of Drone Lidar Microdrones from PT Geotronix and Terrestrial Laser Scanner from PT. ASABA," said Ir. Rochmad Muryamto M.Eng.Sc. as both the Head of the TSPD Applied Undergraduate Study Program and UGM Geodetic Engineering lecturer,
He said that this research activity is a routine activity that must be carried out by lecturers in accomplishing the tri dharma. PT Geotronix and PT ASABA also contributed to supporting the other investigations in several aspects that have not been previously monitored within this research.
Director of PT. Geotronix, Fajar Adi, said that PT. Geotronix is committed to supporting educational, and research activities in universities in Indonesia, one of them is UGM.
"The Lidar drone is used to get data in the form of a point cloud that can display objects in detail and quickly. In general, drones only show images in the images or photos form," he said.
Fajar added that this Lidar drone emits a safe laser beam, which is then reflected by the object underneath to form a real condition picture. Apart from research in Prambanan, this Lidar drone is also used for mapping campus areas at UGM.
Research with support from PT. Geotronix is a manifestation of the memorandum of understanding that has been made previously between UGM and PT. Geotronix.
Wahyu Widiat Miko, as the technical support manager in PT. ASABA revealed that the 3D documentation of Prambanan Temple hopefully could be useful to facilitate the restoration process if one day of damage occurs, for example, damage caused by an earthquake.
Dra. Zaimul Azzah M.Hum., Head of BPCP DIY, also enthusiastically welcomed the research conducted by the TSPD UGM Study Program. He also explained the results of this research could be used for operational and disaster management in Candi.
"The temple building can be restored according to its original size and shape to maintain the cultural-historical value of Prambanan Temple so that the next generation can enjoy it," said Zaimul.
In order to realize the hopes for preserving Prambanan Temple culture, TSPD UGM Study Program is committed to researching data processing. Next, hopefully, DIY BPCB will utilize the results of the research.
Author: Gloria
Translator: Natasa A