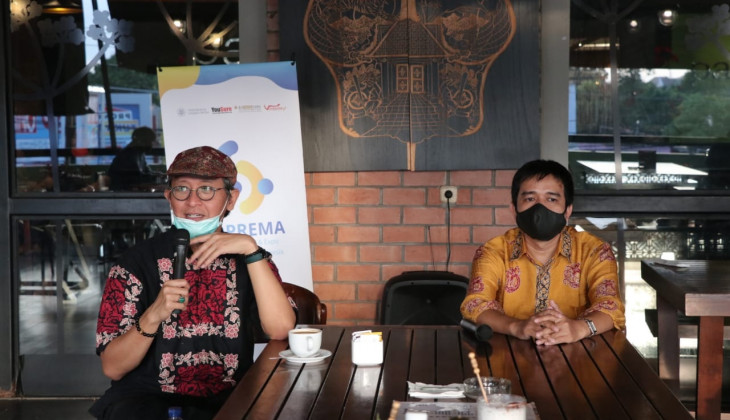 Youth Studies Center (YouSure) Faculty of Social and Political Sciences UGM, along with RI Ministry of Youth and Sports (Kemenpora RI) and BRI for an encore, organized the UGM Youth Sociopreneur (Soprema) for its fifth event. This year, Soprema raised the theme "Young Sociopreneur Innovation in National Awakening in the Covid-19 Pandemic Period". Throughout this theme, this year's event requires developing ideas and inspiration in social entrepreneurship, primarily to assist the revival of the economy and social business, which is now declining due to the Pandemic to compete again.
Dr. Hempri Suyatna, M.Sc., Coordinator of the UGM YouSure Youth Network and Advocacy Division, said that this year's implementation was different from the previous ones. The difference is in the form of a series of events, from competitions, expos, to online Soprema. He said this activity is in response to the pandemic conditions.
Accordingly, Hempri stated that the committee finally accepted the theme. He hopes the participants could develop creative and innovative ideas covering various fields, such as education and health, technology and services, agriculture and maritime, ecology and tourism, and creative industries.
"Throughout this competition, hopefully, there are ideas come up related to social entrepreneurship that can be a solution in solving the problems plagued by the Indonesian nation due to this pandemic," said the lecturer of the UGM Social and Political Science PSdK.
The 2020 Soprema event started last Monday (7/9) with registration for the young sociopreneur competition and Incubation. This registration will last until October 7, 2020, through the official Soprema website, namely: http://soprema.fisipol.ugm.ac/e-soprema. There were two categories in this sociopreneur competition: Kick-Off for businesses under one year of age, and Startups for businesses with ages 1-3 years.
Meanwhile, the Incubation is a tangible form of Soprema UGM's commitment to developing social entrepreneurial potential by assisting young sociopreneurs. Hopefully, through this activity, young sociopreneurs can get space to finalize ideas and ideas and expand networks and opportunities for collaboration with other young sociopreneurs and investors. Incubation participants were finalists for UGM Soprema from previous years. The Incubation will take place in two baths. The first batch is on December 1, 2020, and the second batch is December 2, 2020. Participants will participate in a series of events consisting of sharing sessions, inspiring sessions, and workshops held online.
What is new from Soprema this year is the existence of the Virtual Expo. Collaborating with the Community Entrepreneurship Academy (AKM) Fisipol UGM, this new concept proposes accommodating millennials' spirit in welcoming and developing social entrepreneurship, increasing from year to year. Therefore, Inspiring Millennials as Sociopreneurship Champion was chosen to be the big concept of the virtual expo to become a mini-ecosystem that can bring together the youth with the same passion.
Meanwhile, Muhammad Najib Azca, Ph.D., as Director of YouSure Faculty of Social and Political Sciences UGM, said that organizing the Soprema this time is a form of commitment from his party to develop youth social entrepreneurship. He admitted that this event organization is held after various considerations. "It is also what causes the implementation of this time to be somewhat delayed compared to previous years," he said.
Najib said his party aspired to build a youth mindset that the Pandemic was not a barrier. Instead, he emphasized, this pandemic condition should be able to encourage us to be more creative and innovative. This attempt is by generating new schemes to rise again.
"We should assume that the Pandemic is a moment to encourage us to take steps, be creative, and innovate, primarily for Indonesian youth to take advantage of this moment instead of momentum to lose and stop. That is because I believe that these youth will be able to become part of the solution to convert strength during the Pandemic so we can continue to re-develop this nation," said the Head of the UGM Department of Sociology Masters Study Program.
Author: Hakam
Translator: Natasa A