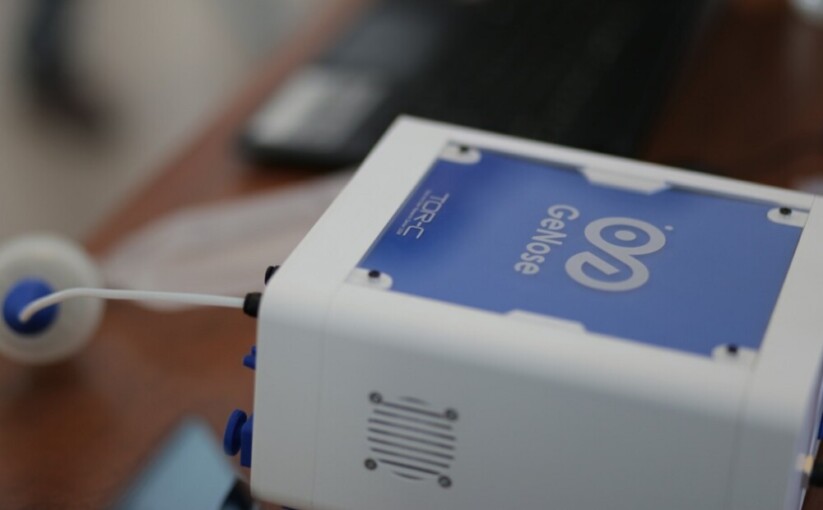 UGM is ongoing to launch the latest innovation, "GeNose" as a tool for detecting and diagnosing whether someone is infected with Covid-19 or not with just a breath. "GeNose" works to instantly and accurately detect Volatile Organic Compound (VOC), which is formed due to the Covid-19 infection that spreads out through a person's breath. People's breaths are sensed through sensors, and later, the data is processed with the help of artificial intelligence for its detection results. Despite the elements of speed and accuracy, "GeNose" is designed to be very convenient to be operated by someone independently and efficiently.
"GeNose" is the original innovation in Indonesia to detect Covid-19 through breath, whose application is connected to a cloud computing system to obtain real-time diagnosis results. Notably, "GeNose" can also work in parallel through a centralized diagnosis process in the system to provide data validity for all connected devices. In addition, the data collected in the system can then be used to map, track, and monitor the pandemic's actual spread.
The "GeNose" profiling test (calibration) has obtained 600 valid data samples at the Bhayangkara Hospital and the COVID Bambanglipuro Special Field Hospital in Yogyakarta. The results show a high level of 97 percent accuracy. Besides, "GeNose" enters the diagnostic testing (clinical trials) and disseminated across several Indonesia hospitals. The authenticity of the tools, the accuracy of the data, and the validity of the methods applied are expected to increase end-users' confidence to instantly adopt the "GeNose" application to serve the wider community.
GeNose's innovation is designed along with the spirit of cooperation, including a team of experts across science fields at UGM, namely: Dr. Eng. Kuwat Triyana, M.Si (FMIPA); dr. Dian Kesumapramudya Nurputra, Sp.A, M.Sc., Ph.D. (FKKMK); Dr. Ahmad Kusumaatmaja (FMIPA); dr. Mohamad Saifudin Hakim, M.Sc., Ph.D. (FKKMK), and strategic industry partners who are dedicated to designing campus research and innovation results. Hopefully, the GeNose innovation can be soon distributed and immediately used to help in Covid-19 handling before the end of 2020.
Author: Satria
Photo: Directorate of PUI
Translator: Natasa A