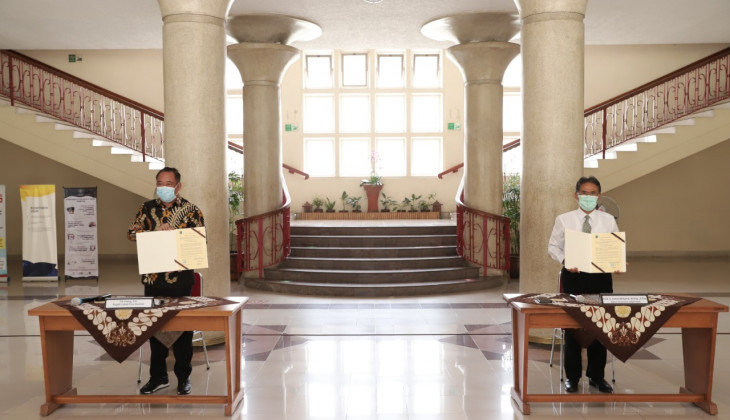 The UGM Chancellor, Prof. Ir. Panut Mulyono, M.Eng., D.Eng., IPU, ASEAN Eng., signed a memorandum of an agreement bill between Universitas Gadjah Mada and Lahat Regency, South Sumatra, on Thursday (17/9) at the UGM Hall.
UGM and Lahat Regency have agreed to build a partnership in education and teaching, research, and community service.
"We have done many things concerning the cooperation between UGM, districts, and cities throughout Indonesia. We welcome the cooperation with this Lahat Regency," said the Chancellor of UGM.
He explained that UGM had built partnerships with various regions filled with effective programs and activities to support regional development. One of which is opening opportunities for local children to study at UGM through partnership.
"There are very wide opportunities for the best local man and woman to study at UGM for both undergraduate and postgraduate levels. But there is a selection process because we are not possible to accept all of them," he explained.
He also said UGM is also committed to strengthening potential regional development through research activities and community service by sending UGM SCS-CEL students.
This year, UGM SCS-CEL activities must be held online because of the Covid-19 pandemic. However, under normal circumstances, thousands of UGM SCS-CEL students are directly deployed in the community and jointly explore and develop its areas' potentials for their progress and prosperity.
"We also often conduct research related to the development of regional potential, as well as provide assistance on how to utilize the current potential to increase welfare," said the Chancellor.
The Regent of Lahat Regency, Cik Ujang, S.H., said that several service heads and officials at the regional level of Lahat Regency are UGM graduates, and so far have given great performance and contribution to the region.
He hopes that more Lahat Regency residents will have the opportunity to continue their studies at UGM to gain knowledge and experience values to support regional development.
"We hope high school graduates from Lahat can proceed their education at UGM," Chancellor said.
He also hopes that many UGM students and graduates can come to Lahat Regency to gain knowledge through the UGM SCS-CEL program or other programs.

Author: Gloria
Photo: Firsto
Translator: Natasa AA