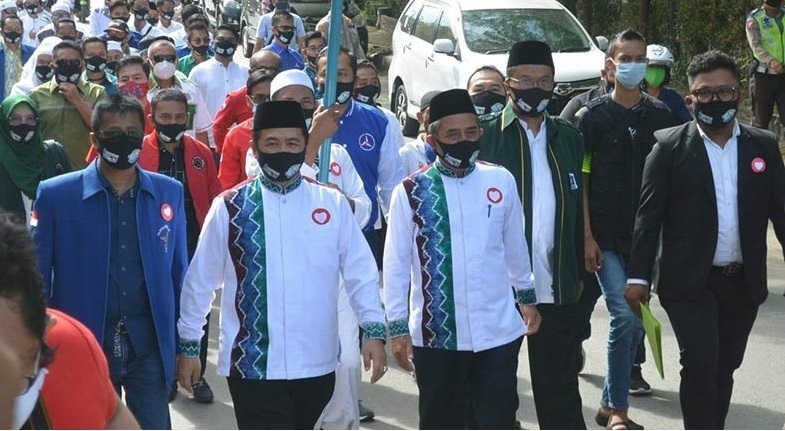 The UGM Anthropology Laboratory for Research and Action (LAURA) initiated Laura Sirep Pageblug's solidarity action using masumambang to respond to the crisis that occurred due to the Covid-19 pandemic.
This action is considered one of the public services in dealing with the pandemic in the Special Region of Yogyakarta, listed in the Top 21 Public Service Innovations for Covid-19 Handling from the Ministry of Administrative Reform and Bureaucratic Reform.
"We are together inviting everyone to start encouraging for musicals and visuals of reason and mind, finding a way out of the pandemic crisis with confidence," said Ignasus Kendal as a member of the LAURA research team.
Laura Sirep Pageblug explained that it is the role of the power of teamwork to face and manage the pandemic crisis culturally. Pandemics cause the daily habits of human life both individually and in the community to change, and these changes often cannot be instantly adjusted to daily human life, which in turn may lead to a crisis.
Accordingly, disaster mitigation efforts are required in the form of awareness or strengthening of individuals and groups, hoping that the crisis will reduce and quickly adapt to new changes.
Throughout this action, the burden of the crisis's impact due to the Covid-19 pandemic in society and the community was soothed or shaded by abreaction or self-healing in the form of various poetic expressions of teaching, prayers of hope, or guidance contained in words that can be whispered.
Moreover, it is hoped that the public and the community can strengthen their self-confidence and self-awareness to live their daily lives in a pandemic or pageblug situation.
"In every culture, there must be something that can be identified as an attempt to overcome a crisis caused by a pandemic or a certain disaster situation. "The encouragement needs to be seen and revitalized again by popularizing it through current various learning processes and cultural management," Laura explained.
This action began on April 18 through several posters uploaded on social media. A week ago, participants joined as 28 Maskumambang pupuhs. They shared their attitudes and feelings in undergoing the Covid-19 pandemic crisis from their respective places or locations.
Until the work approval closed in early June, this series of cultural solidarity action-research processes had involved 678 participants from various regions, with 1,019 pupuh creations in the macapat song of Maskumambang Sirep Pageblug.
Central Java and Yogyakarta are areas with the largest number of participants. There were also participants from some regions in Indonesia, such as Aceh, East Kalimantan, East Nusa Tenggara, and West Papua, to Asian and European countries such as Thailand, Japan, the Netherlands, Austria, France, Poland, and Serbia.
"This event becomes very impressive, it gives us an initial picture, that this self-healing expression with our cultural assets as a model mechanism that can be used in a global concentric manner," he said.
Not only received an award from Kemenpan-RB, but this action also received appreciation from the Governor of Yogyakarta, Sri Sultan Hamengkubuwono X.
Author: Gloria
Translator: Natasa A