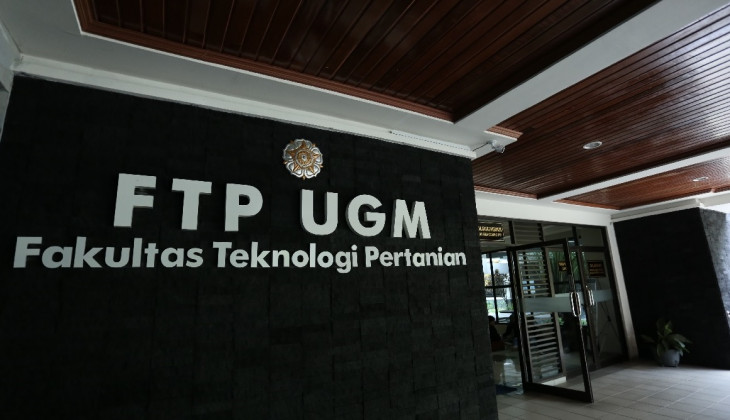 UGM Faculty of Agricultural Technology (FTP) was established on September 19, 1963, as the oldest agricultural technology faculty in Indonesia. In 2020, UGM FTP is currently 57th year old in subserving themselves for this country. During this time, UGM FTP has produced thousands of alumni engaged in various fields, especially agricultural technology development.
Since the 57th Anniversary of UGM FTP coincides with the Covid-19 pandemic, this year, UGM FTP raised the theme "The Role of Agricultural Technologies in Agro-Industry Development in the Era of New Life Habits."
This theme is strongly associated with the current challenges and problems confronted by the Indonesian nation in the future agro-industry, especially during the pandemic and post-pandemic era, which is called the New Life Habits Era.
"These are both a reflection and projection of the degree to which FTP performs a role in strengthening agricultural technology and agro-industrial innovation in Indonesia in this New Life Habits Era. Development and innovation in the field of agricultural technology to support agro-industry and food sovereignty should be continuously integrated through the Tri Dharma of Higher Education," said the Dean of FTP, Prof. Dr. Ir. Eni Harmayani, M.Sc., on Saturday (19/9).
Increasing the competence of human resources through the integrated program, especially in information technology and health protocols, is one of the basic steps needed to facilitate adaptation in this New Order Era. UGM FTP, with its vision as a center of excellence in the agro-industry sector, has made various prospects. This idea is perfect for the teaching and education process, improving infrastructure, IT infrastructure, increasing partnerships with various stakeholders, digitizing and developing lecture content, and research related to mastery of technology, which determines competitiveness in the New Life Habits Era.
In accordance with the Road Map that has been made, in 2020, the UGM FTP programs still focused on improving academic reputation, national and international accreditation; infrastructure development, sarpras and IT; social entrepreneurship development (socio-technopreneur); downstream FTP products; as well as increasing human resources and governance. Therefore, some of the various parties attempted to keep implementing these innovations.
There are some of the implemented-programs include Free Learning Workshop, Book Writing Technical Guidance, Logistics, and Supply Chain Book Review Webinars, Agro-Industry Development Webinars in the Middle of a New Life Habits Era, Human Resources Development Training and FTP Tendik, Alumni Gathering Webinars, E-billing Making Socialization for Receiving Funds and VAT Provisions for Services and Cooperation in the UGM FTP Environment, Pilgrimage, and Anjangsana by following health protocols, and Community Service Webinars.

The next events are the Open Senate Meeting, Soft Launching of academic scripts, and Kick off the outlet of UGM FTP UGM products at Selopamioro "Warung Gubug Dermo Selopamioro," which was still a part of the 57th Anniversary of the FTP event.
Author: Hakam
Translator: Natasa A