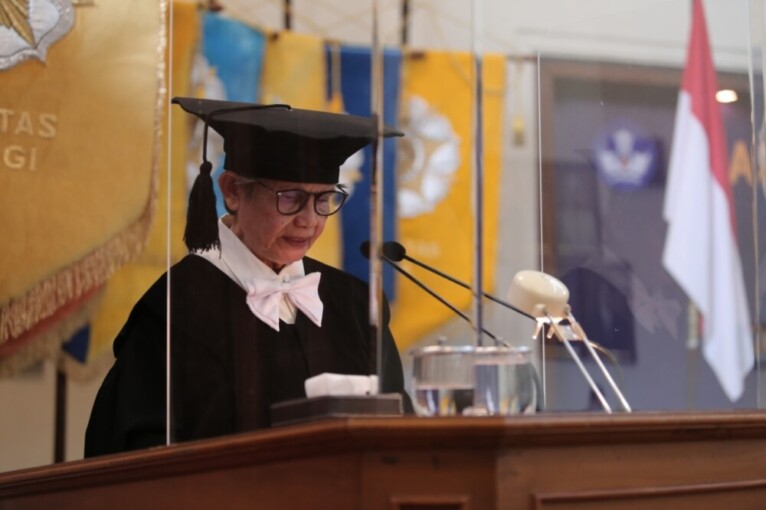 Prof. Dr. Tjut Sugandawaty Djohan, M.Sc., as a Professor of Ecology, Faculty of Biology UGM, revealed many damaged-ecosystems of mangrove forests in this country. The presence of a healthy mangrove forest ecosystem will absolutely support coastal and offshore fisheries as a source of foreign exchange. One of the deforestations of mangrove forests happened in the Segara Anakan mangrove forest, Cilacap Regency, Central Java.
Tjut said the deforestation in the Segara Anakan mangrove forest ecosystem was detrimental to fishermen and residents living around the coast. One of the factors that cause an ecological crisis in the region is natural and human factors.
"Sedimentation and large-scale reclamation of mangrove forests have damaged the Segara Anakan raw forest ecosystem," she said in the limited opportunity of the Professor's Inauguration Speech at UGM Senate Hall on Monday (21/9).
She said that the severe silting in the Segara Anakan Lagoon has happened since 1980. About 4.5 million tonnes of sediment annually are carried by the Citanduy River so that the lagoon is getting shallower and narrower.
Not only dealing with the problem of high sedimentation, but the Segara Anakan mangrove forest is also dealing with damage due to land conversion. The mangrove forest area was reclaimed on a large scale into shrimp ponds, which eventually failed.
"The Segara Anakan mangrove forest ecosystem is currently only colonized by mangrove shrubs and lianas. There are only seven stems left per hectare and are also present as island habitats in a sea of shrubs and bush lianas," she explained while delivering the research she did in 2017.
This condition causes deterioration in the contribution of mangrove leaves as the main nutrient in mangrove waters. This situation was responded to by the noxious phytoplankton community and resulted in depleting the zooplankton community.
"Consequently, there is a decrease in fishermen's fish harvest. Climate change also exacerbates the situation wherein the rainy season, the brackish waters are hypohaline, and in the dry season, they become hyperhaline," she explained.
Author: Ika
Photo: Vino