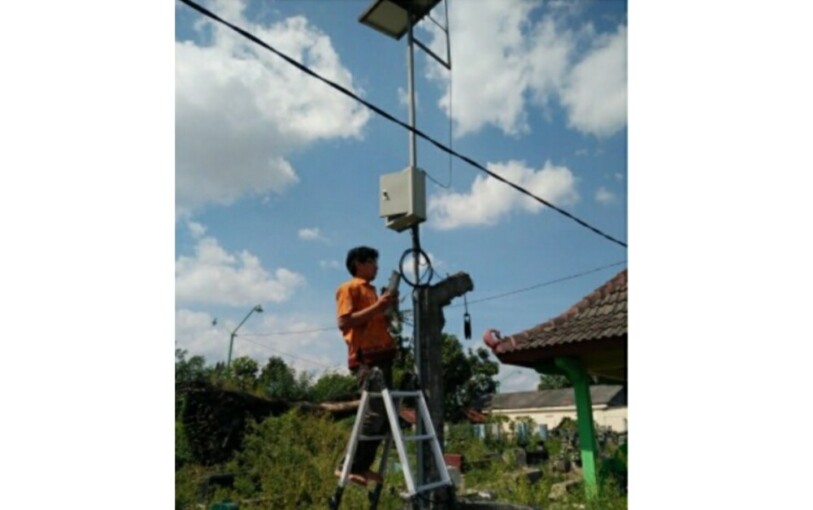 The UGM research team developed an earthquake early warning system that can detect and provide earthquake warnings. This system is able to predict earthquakes that will happen 1-3 days in the area from Sabang to East Nusa Tenggara.
"Based on the EWS earthquake, the algorithm that we developed can tell 1 to 3 days before the earthquake occurred. Suppose there is a big earthquake that occurred above six on the Richter scale. In that case, this tool will start to give a warning about two weeks earlier," explained the Head of the Research Team for the Sensor and Telecontrol Systems Laboratory, Department of Nuclear Engineering and Engineering Physics UGM, Prof. Ir. Sunarno, M.Eng., Ph.D., on Sunday (27/9).
Sunarno explained that the earthquake early warning system is based on differences in radon gas concentrations and groundwater levels, which are considered natural oddities before the earthquake. If there will be an earthquake on the Earth's plate, the exposure phenomenon to natural radon gas from the ground will significantly increase. Likewise, groundwater levels greatly fluctuate.
"The EWS tool will receive and detect these two pieces of information, and it will immediately send the information to my cell phone and the team. This tool can receive the information for 2 or 3 days before the earthquake between Aceh and NTT," he said.
The developed system consists of an EWS device composed of several components, such as a groundwater level change detector and radon gas, signal conditioners, controllers, data storage, and electrical power sources. Then, please take advantage of the internet of things (IoT) technology in it.
He said that in 2018 he and his team had conducted research to observe radon gas concentrations and groundwater levels before earthquakes occurred. They also next proceeded the observations further to formulate an algorithm in earthquake early warning system prediction.
This system has proven to have been able to predict the occurrence of earthquakes in West Bengkulu M5.2 (28/8/2020), Southwest Sumur-Banten M5.3 (26/8/2020), Southwest Bengkulu M5.1 (29/8 / 2020), Southwest Sinabang Aceh M5.0 (1/9/2020), Southwest Pacitan M5.1 (10/9/2020), Southeast Naganraya-Aceh M5,4 (14/9/2020), and others.
This earthquake early warning system has been used to predict earthquakes. There are five monitoring stations / EWS spread across DIY that send data to the server every 5 seconds via IoT.
"The five EWS stations are still in the vicinity of DIY. We could predict better if the area between Aceh and NTT installed this tool. We could also predict better, namely predicting the location more precisely / in focus," he explained.
Sunarno said that the detection system's development aims to develop to form a community, apparatus, and academic preparedness to reduce disaster risk. This development is also due to Indonesia's position on the world's three earth tectonic plates, making it prone to earthquakes.
Throughout 2019 there have been 11,473 earthquakes where significant earthquake activity with a magnitude above 5.0 occurred 344 times. Meanwhile, 11,229 small earthquakes with a strength of less than magnitude 5.0 occurred. The earthquakes caused hundreds of injuries and damaged thousands of residential buildings and public facilities.
He said that the earthquake early warning system would continue to be developed to predict the precise time of the earthquake, the location of the earthquake epicenter coordinates to the earthquake magnitude. Hopefully, the development of an earthquake early warning system will help the apparatus and the community evaluate the population's rescue more promptly. Besides, it can also be recommended for an instrumentation system for earthquake early warning and provide awareness to the public about earthquake predictions to be ready and stay alert for earthquake disasters.
Author: Ika
Translator: Natasa A