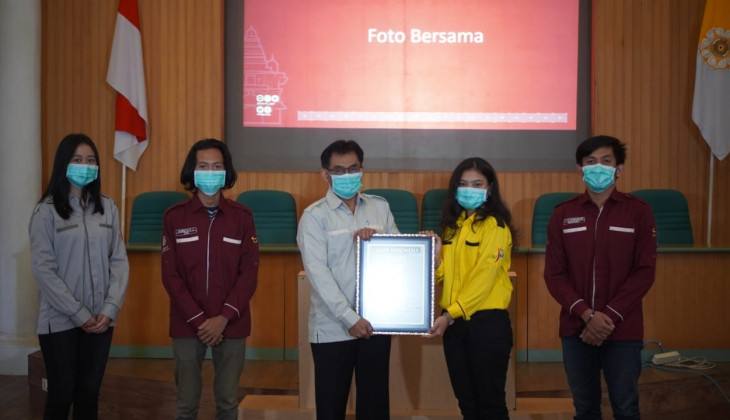 The Indonesian World Record Museum has officially announced UGM Success Learning for First-Year Students or PPSMB UGM 2020 as the record for the Most Digital Collage on a Series of Lights with a record number of 9635. Gadjah Mada Cultural Pelita Formation has successfully beat this record at the UGM Central Building on Sunday (23/8) last August.
The Pelita Gadjah Mada Formation presented 1,825 pictures of 900 lamps arranged in thirty rows of steel with 6x6 meters. The timeframe for taking and uploading the images equaled three hundred minutes.
Gabriella Felicia, as Sub-Coordinator of the 2020 PPSMB UGM Celebration, revealed that this formation was the result of developing innovative ideas and narratives from the big theme of the 2020 PPSMB UGM, entitled "Gemilang Budaya Songsong Dunia." Meanwhile, the committee considered this formation development out of lights to create an interesting celebration concept and make Gadjah Mada Muda proud. Hence, they will feel like they belong to part of UGM itself.
Felicia explained that they did not expect the formation to get a MURI record. She considered that this achievement was a form of appreciation to the team who had made such a great concept and, finally, according to the MURI record procedure.
"Throughout this formation, we prefer to introduce culture with a new platform to compete internationally. Meanwhile, the achievement of the MURI record is a high appreciation for all elements of the committee who work very professionally to support this process," said Felicia as UGM Indonesian Literature Student 2018 on Monday (28/9).
Meanwhile, M Trianda Kusuma, General Coordinator of PPSMB UGM 2020, added that this achievement also proves that although there are many obstacles in implementing PPSMB this year, especially because of the pandemic, the committee can still take part to be creative and innovative to attain this achievement.
"This award won't stop us from being creative and innovative. We will continue to present the best for the alma mater and this country. In any condition, UGM students are ready to welcome the world with our creativity and innovation," he said.
Dr. dr. Rustamadji, Head of Sub-Directorate for Student Character Development at UGM, congratulated the PPSMB UGM 2020 committee. He appreciated their performance and creative and innovative ideas, even during this pandemic era. "The message provided in this innovation is UGM's values for all UGM academicians, including GAMADA. Hopefully, we can maintain and develop for further achievement in the future," he concluded.
Author: Hakam
Photo: PPSMB Committee
Translator: Natasa A