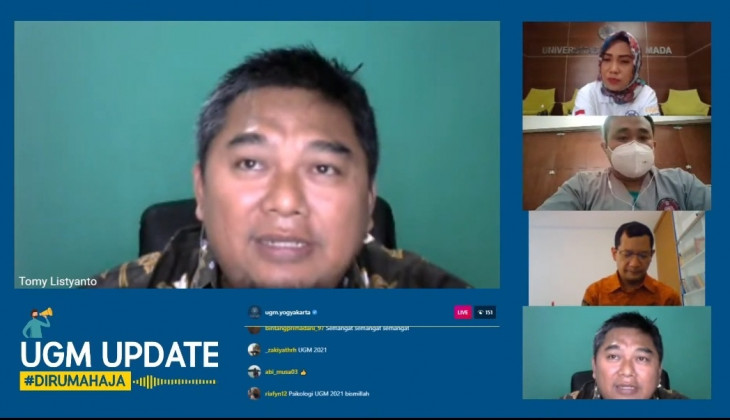 It is indeed a little bit tough to undergo stressful times when you are tested positive for Covid-19. There must be confusion that occurred within himself when he first heard the test result that showed he was positively infected with Covid-19.
That is the confession of Tomy Listyanto, S.Hut., M.Env.Sc, Ph.D., as a lecturer in Forest Product Technology, Faculty of Forestry UGM, during the UGM Update with the theme of UGM's Story Against Covid on Thursday (1/10).
"On September 19, 2020, when I went to the office, I got the news that I was tested positive for Covid-19 positive. I was extremely shocked, but I still had time to tell my wife and children first. Then, the first and foremost action should be done based on the knowledge we have. "On that day, Health Office of Sleman Regency contacted me, they said that the data had already entered the Health Office, then they were assessed whether I could be undergone independent isolation," said Tom.
Tomi is infected with Covid-19 with no symptoms. Moreover, the Health Office also assessed his house, whether it is suitable for independent isolation. After assessing the number and location of rooms, bathrooms, food supplies, and others, his house finally allowed as an isolation place for 14 days.
He then obeyed his wife's suggestion to be open about this matter. He also openly wrote on WhatsApp reporting to the Dean and Deputy Dean for Human Resources, Faculty of Forestry UGM.
"Also to the WA lecturer group that I came from East Java after my duty, so I suggested they who previously have contact with me to be aware and immediately conduct a test. I am also open to RT and residents. This moment is a form of openness. There are foodstuff hooks on the fence of the house every day," he said.
Tomi openly emphasized many suggestions came through WA, especially from colleagues. He admits that he has received a lot of WAs and calls that contribute to encouraging advice.
Even though he had once infected with Dengue Fever, Tomi admitted that he had DB healing experience to be implemented for Covid-19 recovery. When I was infected with DB, I drank Angkak juice, brown rice. He was also going to do it during recovery from Covid-19 to increase stamina.
"At that time, it was worked, then I drank it again plus vitamins and black honey. Coincidentally, I like hot water, so I have a mindset to drink 2 liters of hot water a day," he said.
After being tested positive for Covid-19, Tomi admitted that he was trying to build his psychological state, especially after reading bad news about this virus.
"I kept encouraging myself. Alhamdullilah, I still got support from my wife and children, even though they were apart because we had different rooms. I was always in the room of the back. I was going outside of the room only in the afternoon and in the morning when I took the recommended vitamins. Besides, I love planting flowers. So, in the morning, I usually had sunbathing while caring for flowers. Then a routine exercise for 30 minutes," he said.
dr. Jimmy Lihartanadi, an internal resident at Dr. Sardjito, said that Covid-19 has quite many variations. Most people do not show up any symptoms, but when tested in rapid or swab, the PCR results are positive.
"It is often found in Dr. Sardjito Hospital in which we serve it. Accordingly, the activities we carried out at the hospital must follow the protocol," he said.
Jimmi shared how the services carried out in the hospital every day must be based on health protocol rules. These protocols aim to maintain personal safety, as well as patient safety.
"It's natural if we are worried. Conversely, it would be very odd if you aren't worried because the news about Covid-19 was spread in all media. Besides, information also spread so quickly because of Dr. Sardjito as the main reference for Covid-19. It is OK if we are worried. It is indeed natural. There was a question of how if we were infected by this virus because, in the beginning, there was a big stigma in society," he said.
Dr. dr. Rustamadji, M.Kes, as Chair of the UGM Covid-19 Task Force, stated that there had been much socialization carried out at the beginning of the Covid-19 pandemic, either by providing examples or information boards, banners, and others. The UGM Covid-19 Task Force also conducted a rapid test.
"Indeed, like Mas Tomi's experience, often what happens is when we have a negative result for rapid, then positive for PCR because the antibody process does not appear immediately. This process has undergone a long controversy. However, we must keep being vigilant with the rapid test result because it contains pre-notification," he said.
According to Rustamadji, their current concern is related to UGM freshmen. They have just graduated from high school and are still excited to gather and tell stories with each other.
"If they come to Jogja when the Covid-19 pandemic is still going on like now, they must be well prepared to implement a new habit adaptation. It is because yesterday when distributing the alma mater jackets for undergraduate students. Many students were gathered after receiving it. They put on their alma mater jackets together and then took pictures without a mask. Accordingly, I asked UGM Students for their cooperation in dealing with this pandemic, so that UGM would not later become a new cluster," he explained.
Author: Agung Nugroho
Translator: Natasa A