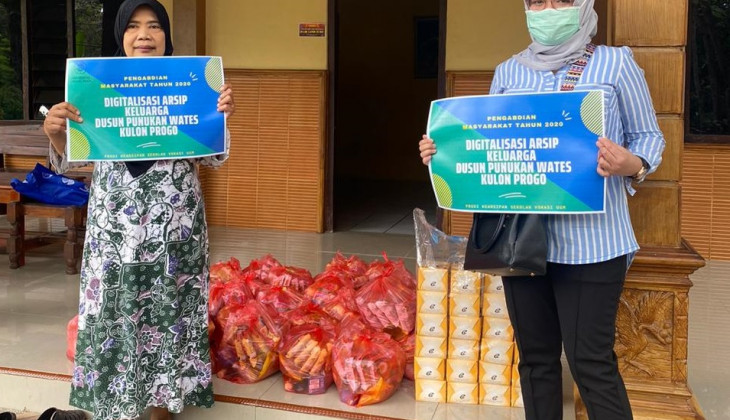 The UGM Vocational School (SV) Management Study Program of Archives and Information managed community service activities in Punukan Hamlet, Wates, Kulonprogo. The students encouraged the surrounding community to increase awareness in archiving work's file importance, starting from the least scope to keep their archives from the possible disaster risks.
Lastria Nurtanzila, as the Head of the Community Service Team, said that Punukan Hamlet was selected as a foster village ever since 2018. Besides, it is expected to be a point in the management and rescue of family archives in Kulonprogo. A team of lecturers in the Archives and Information Records Management Study Program annually assigns and guide the practice of managing archives in its village. "Due to the pandemic, the community service team proposed accessible materials for Punukan village people. In this material distribution, the community who come to the area must implement strict health protocols," he said on Tuesday (13/10).
This community service activities began in 2018, which originally only focused on its materials and practices in organizing family archives. Furthermore, in 2019 residents were given training on several processes of collecting and storing family archives. "In the second year activities, this activity intended to lessen the possibility of damage and loss of the original files belonging to individuals. This year, the students in the community service activities encouraged society in digitizing family archives, "he said.
According to him, people's safety and archives' security are important parts to persevere. There will be an optimal rescue process if some parties are always ready to respond to and face the disaster's impact immediately. Therefore, the community's role in the smallest scope becomes significant in helping each other when a disaster occurs. "After we save ourselves, family, surrounding people and property, it is also not less important to make attempts to save archives as proof of ownership asset, individual identity, and other data," he said.
He also revealed that throughout this activity, he was optimistic that there would be benefits for the community to be more independent and engage in protecting their own archives.
Author: Gusti Grehenson
Translator: Natasa A