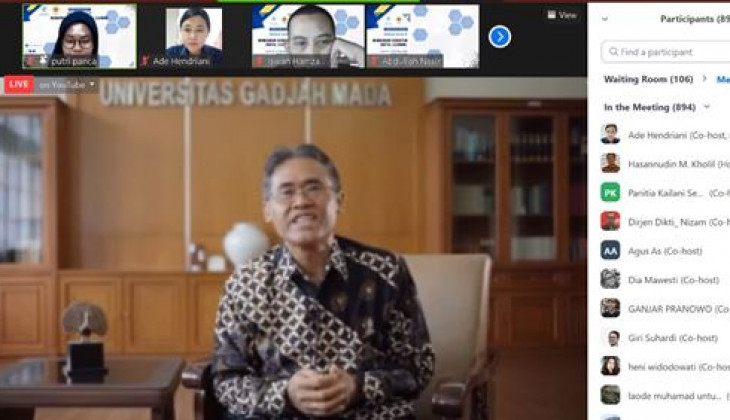 The remote learning model as the basis for developing a home learning system using information technology is one way to minimize Covid-19 transmission. The Head of the UGM Jakarta Campus Office, Yahya Agung Kuntadi, revealed a statement in the webinar activities organized by UGM with the Central Board of Religion, Friday (16/10). He said that maintaining physical distancing by diminishing face-to-face interaction is necessary to apply to the pandemic's education system.
Yahya stated that Universitas Gadjah Mada, as an educational institution, considered it necessary to make adjustments in implementing its teaching and learning process. Together with the KAGAMA Central Management, UGM agreed to collectively organize a series of discussion activities to improve the digital learning ecosystem and learning models according to new habits. "Both parties apprehend the importance of developing a digital learning ecosystem," he said.
Throughout this series of webinar discussions, the alumni can present ideas concerning Indonesia's digital learning ecosystem. They are both from the policy aspect, mapping competency needs and efforts to fulfill the parties' competency improvement and offering solutions to develop the mindset, orientation, method, and culture in the learning administration.
In his remarks, the collaboration between UGM Jakarta Office and PP Kagama strengthens the fellowship spirit, which manifests Kagama's vision as a modern, superior, and innovative alumni organization. It also devotes itself to networking, developing competencies, and career members to be useful for the broader community.
Deputy Secretary-General of PP Kagama for Cooperation and Inter-Institutional Relations, Puthut Yulianto, announced that Kagama had organized many experience sharing and learning forums during the pandemic optimizing technology. Kagama unit or the community was the party who conducted this event, including those in foreign countries. "Kagama always endeavors to provide the best service for the members, especially in improving the capability of its members and at the same time supporting the spirit of social awareness during a pandemic like this and, also, absolutely for striving to be of benefit for others," he said.
The series of webinars in collaboration between UGM Jakarta Campus and PP Kagama was organized on Thursday (15/10) by presenting the Chancellor of UGM, Prof. Ir. Panut Mulyono, M.Eng., D.Eng., IPU, ASEAN Eng., And General Chairperson of PP Kagama, Ganjar Pranowo, as well as the Director-General of Higher Education, Ministry of Education and Culture, Prof. Ir. Nizam, M.Sc., DIC, Ph.D. as the main speaker. Furthermore, the Director of the Directorate of Information Systems and Resources (DSSDI-UGM), Widyawan, ST., M.Sc., Ph.D., and Head of Indonesia Market at Udemy, Giri N. Suhardi, and Nadia Citra from Spektra, UGM Campus partners Jakarta concerning book procurement.
Author: Gusti Grehenson
Translator: Natasa A