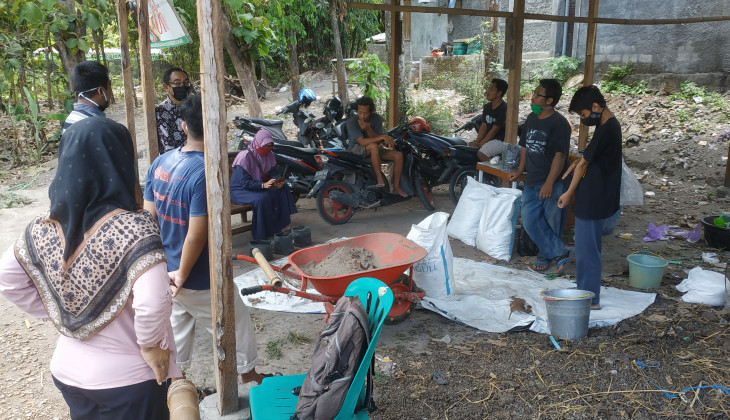 The Lecturer Group of the Faculty of Veterinary Medicine UGM conducted community service activities in Kweni Village, Panggungharjo, Sewon, Bantul. This community service activity raised a theme of realizing village livestock laboratories by disseminating livestock technology and livestock health products to encourage safe, healthy, intact, and halal livestock productivity.
Dr. drh. Irkham Widiyono, as the team leader, said that this service aims to increase livestock productivity through various training and mentoring. Due to the pandemic, training material procurement activities are also being conducted online using multiple digital platforms. Meanwhile, practical activities are implemented by adhering to health protocols.
According to Irkham, aid to farmers during the pandemic is very important. This is due to conditions during the Covid-19 outbreak caused a deterioration in livestock production due to obstacles in reaching animal feed sources, labor crisis, the lower purchasing power of the community for livestock products, and the closing of the livestock market and marketers such as restaurants, supermarkets and so on. "The processed product business volume had also drastically decreased. Attempts to ensure the health of livestock were also undergoing difficulties with the increasingly difficult facilities and diagnostic materials," said Irkham to reporters on Monday (19/10).
He also said that this village had an accustomed habit of buying and selling, especially buying livestock from various Covid-19 distribution zone areas. Hence, to anticipate the Covid-19 transmission possibility among farmers and advance the health of farmers and livestock. Besides, he also delivered a message about the need to implement the Covid-19 health protocol.
Dr. drh. Sarmin, as another member of the community service team, said that in Kweni village, there are about 450 cows. Meanwhile, the total number of goats and sheep last year reached a thousand heads. This mentoring program was intended for farmers communities until the end of December 2020. There were about 32 people involved and eight supported groups outside the livestock village.
In addition to livestock health care, Sarmin also trained farmers to process livestock manure into solid organic fertilizer. Animal manure can be treated into solid organic fertilizer by making it a solid organic fertilizer. Livestock waste in the form of livestock manure, said Sarmin, is combined with EM4, molasses, dolomite, husk charcoal, straw, and water to make solid organic fertilizer. "This fertilizer gives benefits in improving the physical structure of the soil so that roots can grow properly and the availability of essential nutrients for plants so that they can be accomplished," he said.
Author: Gusti Grehenson
Translator: Natasa A