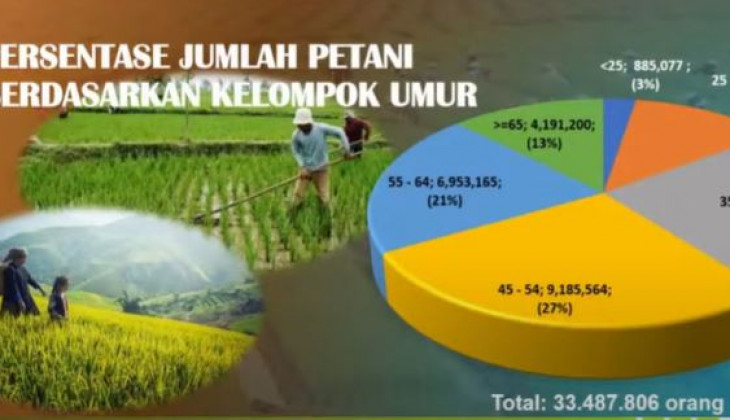 Prof. Dr. Ir. Dedi Nursyamsi, M.Agr., as the Head of the Agricultural Human Resources Counseling and Development Agency, Ministry of Agriculture, revealed the number of farmers in Indonesia until TOday is around 33.4 million people 25.4 million are men and 8 million are women. According to him, most of our farmers come from the old age category, and more than 70 percent are only elementary school graduates. "There is only a small number of millennial age farmers. It is less than 30 percent," said Dedi in the Webinar "Strategy for Human Resources Development and Farmer Regeneration," organized by the UGM Faculty of Agriculture on Wednesday (21/10).
Dedi also said that from the 33 million more farmers, only about 3 percent of the farmers graduated from university. He also admitted that this condition is very tough to accomplish agricultural development goals, provide food for the community, prosper farmers, and boost the export market if elementary school graduates still dominate them. "I am a little bit sad to see this data, so we need harder and more serious effort to handle our human resources," he said.
According to him, the biggest challenge is preparing young people to enter the agriculture world, which is not simple. This condition is because agriculture currently does not guarantee youth welfare, so it is not easy to find competent and competitive young farmers. "We still have an insufficient number of young entrepreneurs in our agricultural sector," he said.
Accordingly, the government made several efforts to improve farmer human resources. It is by cultivating and developing young agricultural entrepreneurs, preparing competent agricultural sector worker candidates, strengthening extension institutions, and cooperative building networks for banks, research institutions, and the private sector. "We expect this training not only to produce smart farmers in cultivation but also to develop them to be smart in doing business," he said.
Prof. Dr. Ir. Sunarru Samsi Hariadi, M.Sc., as a Professor of the Department of Agricultural Social Economics, continued that most of the regions currently have not optimally developed the agricultural sector. He said the number of the labor force in agriculture from year to year remains to decline. Based on BPS data, in 2014, the total agricultural workforce reached 34 percent, then declined by 31.9 percent in 2017 and 29.5 percent in 2019. "This means that we have a very apprehensive problem of regeneration if it is not immediately handled," he added.
A young entrepreneur who deals in agriculture, Ahmad Shofi, SP., said that passage to science and technology in agriculture is now wide open with access to information sources on the internet. According to him, there is an improvement in the psychological image of agriculture, marked by the growing number of urban lifestyles with virtual farmer groups involved in urban farming, hydroponics, aquaponics, and permaculture.
Author: Gusti Grehenson
Translator: Natasa A