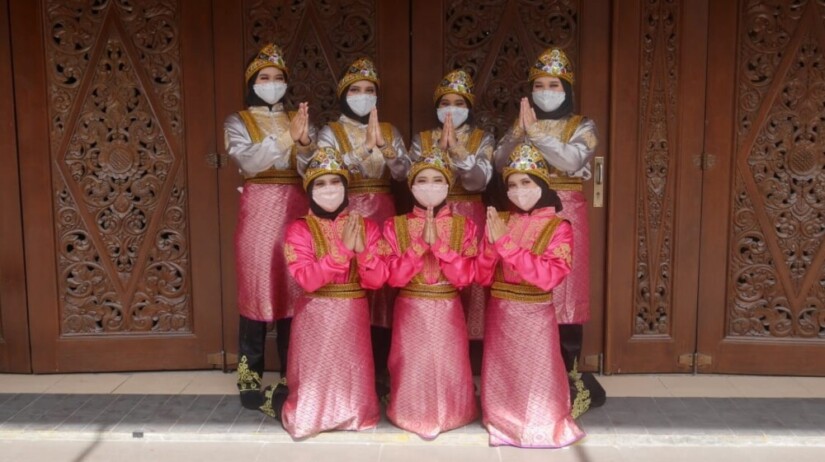 The Aceh Arts Studio, Universitas Gadjah Mada (SAKA UGM), lived up to Indonesia's name for some time. This time the SAKA UGM succeeded in the "International Online Dance Festival Art Life 2020". The event is organized by the European Association of Folklore Festivals located in St. Petersburg. Petersburg, Russia.
In this international level competition, SAKA UGM won 3 titles. They are Laureate 1 Degree, Special Diplomas for Brilliant Preparation of Dance Performance, and Best Dance Group. This team managed to defeat 25 participant groups from various countries, such as Malaysia, Bulgaria, Russia, the Netherlands, and various other countries.
The event was held for two days, 18-19 October 2020. In this competition, SAKA UGM performed dances online accompanied by the Rapa'i wasp, a typical Aceh percussion instrument with beautiful chanting that managed to astonish the jury.
"We performed the Ratoeh Jaroe Dance, which is one of the arts from the Aceh region that implies senses of cohesiveness, religiosity, and cooperation in the daily lives of Acehnese culture. Even in the middle of pandemic situations, our passion for preserving the country's culture has not sunk. We kept applying health protocols in performing this dance," explained Uun Nisfatul as one of the members of SAKA UGM on Friday (23/10).
Uun hopes that the achievements gained by SAKA UGM can inspire Indonesia's youth to cherish more and preserve Indonesian culture. Accordingly, that way can encourage more youth to make achievements for living up Indonesia's name on the international stage.
Before this achievement, SAKA UGM has also made other achievements at the world level, including First Place Grand Prix Winner at the XXII International Art Festival Prague Star 2015 (Prague, Czech Republic), Pride of Asia Award at the 11th Surin International Folklore Festival 2016 ( Surin, Thailand), Absolute Winner at the 2017 Folklore World Cup (Jesolo, Italy), Grand Prix Winner at the 11th International Competition of Folklore, Dance, and Music "Les Etoiles de Paris" 2018 (Paris, France), as well as Third Place and Laureate 1 in "X World Championship of Folklore World Folk 2020, Online."
Author: Hakam
Photo: SAKA
Translator: Natasa A