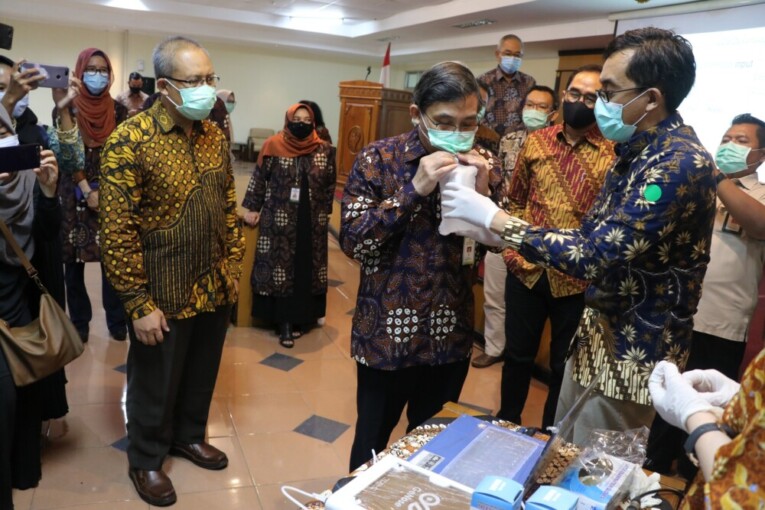 GeNose C19 or Gadjah Mada Electronic Nose is the newest medical device innovation designed by UGM to detect Covid-19 symptoms only using people's breath rapidly. The tool developed by prof. Dr. Eng. Kuwat Triyana, M.Sc., and the team are currently proceeding to the diagnostic test phase before being mass-produced at the end of the year. "We want to set the price cheaper so that we can achieve the social value to help the society in overcoming Covid-19," Kuwat told reporters. After signing the memorandum of understanding for the GeNose C19 diagnostic test cooperation between UGM and Sardjito Hospital on Monday (26/10) at Sardjito Hospital Training Room, he conveyed this information.
He revealed that this tool had been permitted by the Ministry of Health to promptly undergo diagnostic tests at nine partner hospitals, Dr. Sardjito. The diagnostic test design was cross-sectional and triple blinded. Meanwhile, the subjects' recruitment is multicenter consecutive sampling until balanced sample size is achieved between the positive Covid-19 and Covid-19 negative groups. In the initial stages of implementing GeNose C19, it will run as a Covid-19 screening tool. As it is being evaluated for accuracy, sensitivity, and specificity, it can hopefully be enhanced to a Covid-19 diagnostic tool equivalent to a swab / PCR.
dr. Dian Kesumapramudya Nurputra, PhD., another member of the research team, said that each patient would take a breath sample and a nasopharyngeal swab sample in this diagnostic test simultaneously. She has a target estimation of about 1,500 samples tested for three weeks, 10 percent of which were Covid-19 positive patients. "We do not know whether the patient samples taken were positive or negative, so there would be no aberration in the diagnostic test study," she said.
She added that this tool could be distributed commercially by the end of the year if the testing process, scaling up, and further innovations were conducted. "I believe this is the result of multidisciplinary cooperation between scientists," she added.
UGM Chancellor, Prof. Ir. Panut Mulyono, M.Eng, D.Eng., expressed his appreciation for the performance and contribution of Dr. Sardjito in conducting the GeNose C19 diagnostic test. "We genuinely hope that all parties can give support to the development of this innovative GeNose C19 product. Hence, the tool can be immediately used to alleviate and accelerate the handling of the Covid-19 pandemic as well as to recover Indonesia's economy," he hoped.
As is known, GeNose C19 is the first innovation in Indonesia to detect Covid-19 by breath sample that is next proceeded to the cloud computing system to obtain real-time diagnosis results. GeNose C19 can also run in parallel through a centralized diagnostic process so that data validity can be maintained for all connected devices. GeNose C19 had undergone a profiling test at the Bhayangkara Polda Yogyakarta Hospital and the Bambanglipuro Covid-19 Special Field Hospital, Bantul, with a system accuracy of more than 95 percent.
In its implementation, GeNose C19 is expected to stop the Covid-19 transmission with the advantage of a lower cost per test. Because the test result is known to be more instant, it also can expedite the isolation decision. This electronic-based tool is easy to mass-produce because it uses parallel and massive Artificial Intelligence (AI) data analysis and has high specificity and sensitivity.
Author: Gusti Grehenson
Translator: Natasa A