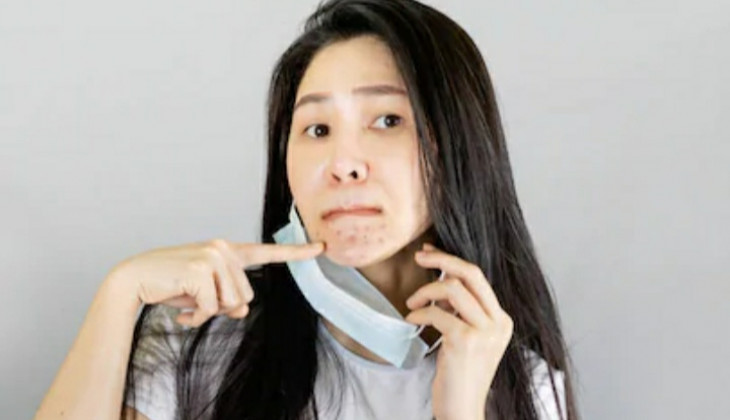 Wearing a mask has become a policy obligation nowadays if you move outside the home during the Covid-19 pandemic. Nevertheless, using masks frequently often causes the problem of mask acne (maskne) for some people.
Dr. Fajar Wakito, Sp.KK (K)., M.Kes., as the Dermatologist from UGM, has explained that wearing a mask frequently can trigger acne. This fact is because using a mask affects physical trauma to the skin's surface, such as rubbing and pressure on the facial skin. On the other hand, physical trauma to the facial skin's surface due to wearing a mask can cause inflammation of the glands that later triggers acne to grow. This condition finally forms inflamed acne lesions on the face.
Fajar also said that masks appeared in a hot and humid environment around the skin from breathing, talking, and sweating. These causes are also a factor that contributes to acne's growth in the area of the face.
"Well, friction, rubbing, pressure, and heat coupled with humid conditions cause acne in areas of facial skin exposed to or around masks," he said on Tuesday (3/11).
The Head of the Department of Dermatology and Venereology, Faculty of Medicine, Public Health, and Nursing (FKKMK) UGM added that the type of mask also affects the mask's appearance. For example, a health mask, with a rough texture and not easy to absorb sweat, can cause inflamed zits. Even so, these cases of maskne do not happen among medical mask users.
"Masks that are made of cloth are far away more comfortable for breathing, not stuffy, so people tend to wear them longer. Accordingly, the risks of acne growth are greater than medical masks. Additionally, the straps on the cloth masks are not checked enough. Perhaps they are too tightly tight, which later results in excessive friction on the face," he explained.
Then, how can you prevent the growth or worsening of acne due to wearing masks too often? Fajar also shared great tips to prevent maskne. First, keep the mask clean by changing the mask if it feels moist, hot, or painful on the facial skin. Then, wash the cloth mask until it is perfectly clean. Try not to use clothing fragrances to avoid irritation.
"The thing is that the use of clothes deodorizer can irritate your skin face, but this is much safer compared to fragrances that are sprayed or applied directly to a mask containing alcohol that causes allergies or irritation," he said.
The second tip, be thorough in cleaning your face after using a mask. Clean the face using soap to taste. Don't forget to adjust the use of soap to each skin type. If you have dry skin, it is recommended to use products that contain moisturizers and are hypoallergenic.
"Clean your face adequately. Do not rub too strong and avoid warm water because it can eradicate the fat on the skin surface. Try not to let the skin feel tight because this could be a sign of dry skin," Fajar explained.
Third, use a moisturizer. Apply a moisturizer to keep your facial skin hydrated, and choose a moisturizer according to your skin type. It is recommended for those who have sensitive or problematic skin to use a hypoallergenic moisturizer to prevent allergic reactions on facial skin.
Fourth, use sunscreen. Do not forget to use sunscreen to protect facial skin from UV rays and choose the type of sunscreen according to daily activities. Fajar recommends that using a good sunscreen has an SPF content of at least 30%, PPA ++, is light, and is oil-free.
Fifth, avoid using bold make-up because it can clog the pores and cause acne.
"For regular days, try to use regular make-up for facial care. And please, if you even use bold make-up, do not forget to clean it immediately, so that the oil content within does not lock the pores that can cause acne," Fajar concluded.

Author: Ika
Photo: shutterstok.com
Translator: Natasa A