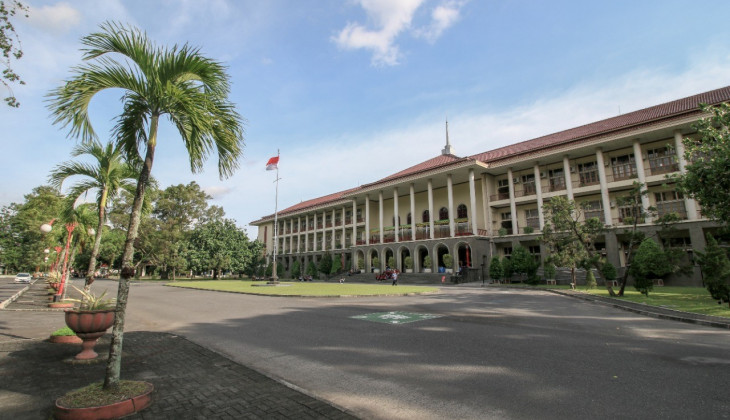 The State Electricity Company (PLN) granted two awards to UGM to commemorate the 75th National Electricity Day. The two awards were dedicated to UGM as an institution and an award to Dr. Deendarlianto, S.T., M.Eng as the head of the UGM Center for Energy Studies (PSE).
The two awards were presented because of UGM as an institution, and Dr. Deendarlianto, S.T., M.Eng as an individual, have supported the strategic activities of national electricity organized by PLN. The award was handed over by the Director of the Research and Development Center for PLN, Iswan Prahastono, and accepted by the Deputy Chancellor for Cooperation and Alumni Affairs, Prof. Dr. Paripurna, S.H., M.Hum., LL.M, and Head of PSE UGM, Dr. Deendarlianto, S.T., M.Eng., Online on Tuesday (3/11).
"Thanks to National Electricity Day for presenting awards to stakeholders. Beyond individuals, as institutions or groups. I was confused yesterday when I was asked to choose one because we have a lot of cooperation with universities. Because we have more than one cooperation with UGM, then we decided to choose UGM as a party to get this award," said Iswan Prahastono.
According to Iswan, the award was granted to UGM as an institution because various collaborations have profited PLN. Besides, the cooperation with UGM resulted in a positive impact on PLN and the Indonesian nation in the future.
Pusenlis Chairani Rachmatullah as the general manager of PLN, also expressed his appreciation. According to him, presenting awards to stakeholders is an appraisal of the results of this year's cooperation (2020).
From the many collaborations and various assessment criteria, the award was eventually delivered to Deendarlianto as the head of PSE UGM. He deserved to get this award because of his support and dedication to build national electricity.
"We are very grateful for the support of PLN. They have shown professionalism as well as flexibility and understanding of electricity in Indonesia so that PLN is very helpful," said Chairani.
Prof. Dr. Paripurna, S.H., M.Hum., LL.M., as a Vice-Chancellor for Cooperation and Alumni, also appreciated this award. According to him, PLN has been a friend of UGM for a long time.
According to him, in the soul of PLN, there is a remarkable nature of dedication. PLN, on the one hand, is required to build electricity across the country for hundreds of millions of people, while at the same time, PLN needs to sell this energy at a low price.
"Meanwhile, on the other hand, PLN also has to purchase energy to be able to move its electricity industry and energy in the form of oil, gas, solar energy, and others at a high price. Well, this PLN is approximately in between. Without great dedication, this condition can result in prolonged high stress," he said.
Paripurna also revealed that UGM has been very proud to collaborate with PLN, considering that PLN's position is very important in the small, medium, and household industries and large industries. UGM has an excellent spirit of dedication fitted to UGM's identity as a travail university, public university, and a national university.
"This collaboration is amazing. How is it possible for UGM to improve, especially with online lectures? How can the UGM laboratory work well? Therefore, those all are because of PLN contribution, and UGM also contributes its experts to PLN," he added.
Head of PSE UGM, Dr. Deendarlianto, S.T., M.Eng., expressed so grateful to receive the award on the 75th National Electricity Day. This award is a form of partnership that has been going with PLN, both central PLN, PLN Yogyakarta, and in other areas and Pusenlis and the PLN Research and Development Center.
"Everything went so well, and we kindly did it sincerely. We hope that this contribution will help the Indonesian nation in the future. I thank PLN for this award, to us and PSE UGM and UGM in general as the best stakeholders this year," said Deendarlianto.
Deendarlianto confirmed that there were many studies and contributions and cooperation jointly conducted between UGM and PLN, which aims to encourage national electricity independence. It also reinforces how the national electricity industry can be strengthened and its supporting industries with domestic technological independence.
"As we have done in the past years, PLN and UGM have participated in the process of fostering and mapping the local manufacturing industry that proposed to encourage the development of new and renewable energy (EBT) in the future. So I still remember, I conducted a survey with PSE UGM and PLN friends from Sumatra to Kalimantan, Sulawesi, and finally, we established a national manufacturing industry capability map, and we have given the data to PLN, "he said.
Deen added that currently, PSE UGM and Pusenlis PLN are collaborating to enhance the community economy based on electricity and based on a community-based electricity ecosystem. They pursued this cooperation because he believed that there would be a small industrial growth and the community's economy in the post-pandemic.
"Hence, Pusenlis PLN and UGM carried out a joint study on how we can increase renewable energy and reduce coal materials, but still involving community stakeholders in strengthening the economy of rural communities. Accordingly, there are two very significant activities carried out, first of all by improving biomass co-firing, also from public waste that we use to encourage a 5 percent reduction in the portion of coal in several PLTUs in Indonesia," he said.
Author: Agung Nugroho
Photo: Firsto
Translator: Natasa A