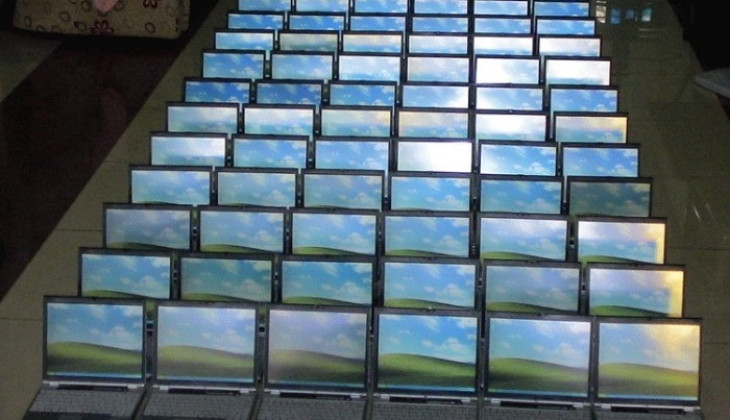 The UGM Faculty of Social and Political Sciences launched the Laptop for Loan Movement (GPL) program during the 65th Anniversary of the Faculty of Social and Political Sciences UGM. This movement is considered a form of the faculty's concern for current conditions due to the Covid-19 pandemic.
Prof. Dr. Erwan Agus Purwanto, M.Sc., as Dean of the UGM Faculty of Social and Political Sciences, said that the launch of the GPL was inspired by the primary conditions for the Covid-19 pandemic in March 2020. Since then, campuses were closed, and the government began to implement online lectures.
Although the implementation was shifted to digital transformation still, the Covid-19 pandemic complicated many parties. Not only students, several lecturers at the Faculty of Social and Political Sciences UGM also at first have experienced some difficulties.
"As soon as the Covid pandemic came, we began to implement the online study. Accordingly, some lecturers and students somehow experienced difficulties," he said at the UGM Campus on Wednesday (4/11).
After having an evaluation in the previous semester, there were some obstacles found in online implementation. The survey results show that one of the obstacles is regarding gadgets or devices to access online lectures and final assignments.
"The survey results reveal that 250 students have limited learning tools. According to that data, finally, FISIPOL made the Laptop for Loan Movement that is fully supported by the faculty and alumni," he said.
The Dean said that currently, there were as many as 50 laptops, in which some of these laptops are new and used laptops from offices that are currently implementing a Work from Home (WfH)'s policy.
He added that FISIPOL has carried out the first phase of a laptop loan, and students have loaned as many as 20 laptops. Till this moment, they are entering the second stage and still in progress.
"Most of the donations attained from alumni. Some of them were donating 1, 2, and 3 or more or by transferring money. The duration limit of its loaning is one semester," he said.
Suppose some of you do not have a suitable device or even interested in borrowing laptops. In that case, you can fill the procedure by submitting it to the Academic Section of the UGM Faculty of Social and Political Sciences. After submitting, a team will carry out verification. After approval, those who live in Jogja can take the laptop. If some of you are not based on Jogja, you can ask for delivery.
"This laptop can be used not only for the final project. However, we still prioritize the loan for students who are currently working on the final project. In terms of data, the number of demands is larger than the laptop supplies. Accordingly, alumni who have three or more are expected to contribute help to this program," he added.
Author: Agung Nugroho
Photo: kitcheneeds.wordpress.com
Translator: Natasa A