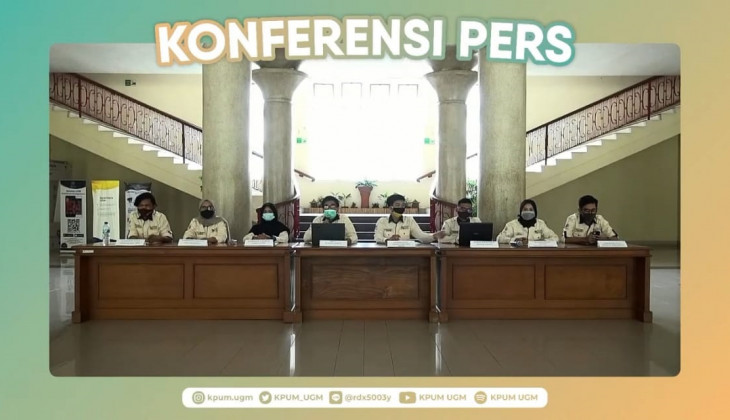 The UGM Commission of Student General Election (KPUM) is going to organize an online Student General Election (Pemilwa) this year on November 16-18, 2020, to elect the Student President and Student Representative Council.
At a press conference on Sunday (8/11), the Head of UGM KPUM, M. Yusuf Ridwan, revealed that KPUM is collaborating with the Directorate of Education and Teaching, the Directorate of Student Affairs, and the UGM DSSDI to hold an online election. He explained that Students General Election this time used the Integrated Information System (SIMASTER) in which UGM had used to integrate student data while studying.
"Later on the D-Day of Students General Election, the students who had registered can access SIMASTER. Then, they can select the Survey menu there. After that, they can elect candidates for the presidential candidate or DPM based on their individual choices," he explained at the online press conference.
Yusuf admitted that he had tested this system numerous times. He said that so far, there were no barriers to accessing it. Yusuf also added that Monday (9/11) and Tuesday (10/11) this week, there will be trials at the university level. "Please, we encourage you to participate in the trial," he asked.
In the D-day election, Yusuf also explained that other stages, such as the debate on the candidates for student president, campaigns, and Students General Election socialization, were also carried out online. All of this information has been uploaded and broadcast through various social media platforms at KPUM UGM, from Instagram, Youtube, Line, Twitter, Spotify, and the https://kpum.wg.ugm.ac.id/ site.
Yusuf explained that by the online implementation, Students General Election would be more economical this year. This condition is not necessary to prepare much equipment and many human resources like the previous Students General Election.
Meanwhile, Pandu Wisesa Wisnubroto, as the Legal Commissioner of KPUM UGM, shared his point of view regarding the implementation of the Students General Election this time, which is slightly close to the moment of the 2020 Regional Election to prevent the appearance of Covid-19 new clusters. Therefore, he formed this online Students General Election in order to minimize the people's stigma.
"Instead of seeing the pandemic as an impediment, we are better to see it as a challenge. Like this online Students General Election, we would like to prove that elections and pandemics are not opposing sides. By employing the information technology available nowadays, we can apprehend how democracy can be maintained without increasing the possibility of Covid-19 transmission. Hence, hopefully, this online Students General Election can become a role model for other institutions or universities," he concluded.
Author: Hakam
Translator: Natasa A