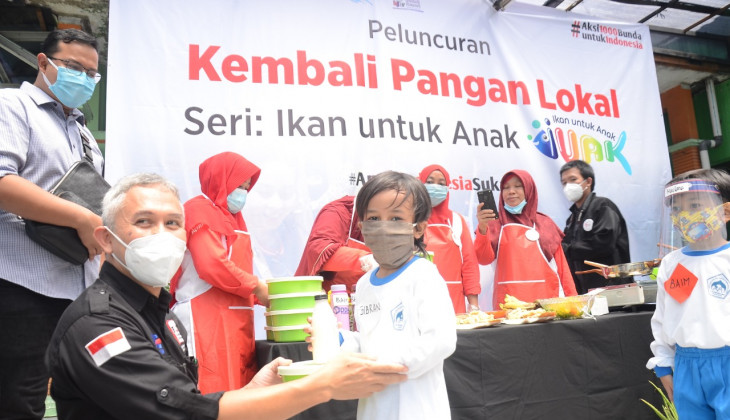 The UGM Faculty of Agricultural Technology and Foodbank of Indonesia (FOI), supported by BeeJay Bakau Resort, launched the Fish Action for Children #IUAK as a part of the 1,000 Mother Action Indonesia movement.
An amount number of 12,000 toddlers and 800 mothers in DKI Jakarta engaged in this action. This event was symbolically inaugurated by the Deputy Governor of DKI Jakarta for Culture and Tourism, Dr. Dadang Solihin MA, and commenced with the distribution of fish and a cooking demonstration for fish-based processing at SDN Johar Baru 10 Pagi.
"The DKI Jakarta Provincial Government greets the Fish Eating Action launch as a form in increasing mothers' awareness towards local food for children's nutrition. This activity could also be one of the efforts to prevent stunting towards Indonesia's golden generation in 2045," said Dadang.
Meantime, Eni Harmayani, as the Dean of UGM FTP, revealed that fish is an essential protein source to support children's growth and has several benefits.
Moreover, she also explained, fish is very important for the growth and development of children's brains. Fish is also a local food selection regularly available due to Indonesia's plenty of production, an archipelago country.
"Hence, it is essential to adapt the culture of eating fish to children from an early age through creative processing methods," said Eni.
FOI research results (2020) revealed that 27 percent of Indonesia's toddlers go to school (PAUD) starving because they don't have breakfast. This pandemic condition has caused this situation even worse.
According to the United Nations (UN), the Coronavirus pandemic that causes the social and economic crisis can cause nearly seven million children in the world to be stunted due to malnutrition. Meanwhile, in Indonesia, some families who have suffered income have caused the food condition of children under five more vulnerable than before.
This Fish Action for Children was launched to raise awareness that fish is one of the economic food alternatives to override hunger in children under five. Furthermore, it is easily accessible from the aspects of both distance and price.
According to the founder of FOI, Hendro Utomo, the activity raised a theme entitled "Mother as Food Hero for Toddlers" was held to boost mothers' awareness concerning the importance of local food and nutrition for children's development and the future of Indonesia.
This launch was organized in 3 locations, namely DKI Jakarta, Yogyakarta, and Surabaya, at different times.
"In celebrating this Heroes' Day, we distribute marine fish to 12 thousand toddlers in DKI and 8 thousand five other provinces. PAUD mothers will cook this fish for their students," Hendro said.
Author: Gloria
Translator: Natasa A