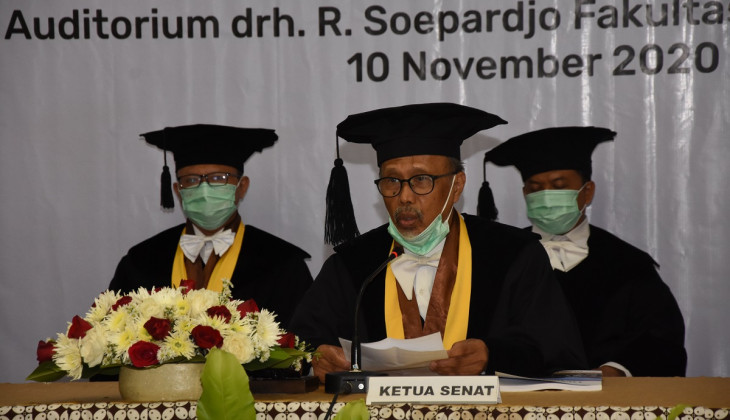 The UGM Faculty of Animal Science UGM organized an Open Senate Meeting in the context of its 51st Anniversary on Tuesday (10/11) at the Auditorium of drh. R. Soepardjo. The meeting was not only held offline, but it was also broadcasted online via the UGM Faculty of Animal Science Youtube channel.
Prof. Dr. Ir. Ali Agus, DAA., DEA., IPU., ASEAN Eng., as the Dean of the Faculty of Animal Science UGM delivered his speech as a Dean of the UGM Faculty of Animal Science, regarding the performance, barriers, and achievements of the faculty that he led over the past year. Besides, he also revealed the Faculty of Animal Science UGM targets in the future.
"We have delayed many plans this year due to Covid-19. Still, we successfully met several targets this year. Accordingly, the anniversary theme for this year is "Technology Disruption, Strategy for Handling Pandemic in the Animal Husbandry Sector". In the next five years, we targeted to make this faculty one of the Top Best 10 in this tropical country," he said.
Hence, according to Ali, he prepared and worked out several plans. Those are:
An acceleration in the number of professors.
Business development for income productive activity.
Establishment of the Animal Husbandry Industry Mechanization and Automation Lab.
Improvement of postgraduate students.
Support for lecturers for international publications.
Meanwhile, UGM Chancellor, Prof. Ir. Panut Mulyono, M.Eng., D.Eng., IPU., ASEAN ENG., confirmed that this pandemic had a comprehensive impact on nations in the world, including Indonesia. This pandemic has significantly impacted in fields of economy and industry, including reducing job opportunities for new graduates.
Moreover, Panut also emphasized that collaboration between universities and partners is essential, especially in developing vaccines, drugs, medical devices, and economic recovery programs. According to him, UGM has carried out these actions, and those gave excellent results to be proud of. Accordingly, he invited all UGM academics, including the UGM Faculty of Animal Science, to be actively engaged in this synergy against Covid-19.
"The livestock industry is one of the sectors affected by the pandemic. In order to overcome these impacts, technological innovations are necessary to overcome these impacts, as well as to achieve food self-sufficiency, increase the farmers' welfare, save the farmers' economy, and enhance the export of livestock products. I hope that the UGM Faculty of Animal Science UGM can lead the effort," he concluded.
Author: Hakam
Photo: Faculty of Animal Science