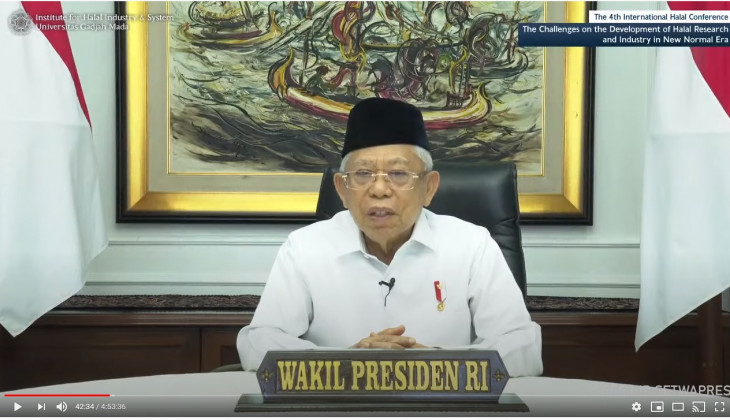 KH. Ma'ruf Amin, as the Vice President of Indonesia, said that the government has a firm devotion to making Indonesia dominate halal products in the world by producing and exporting. His party revealed that he had devised several strategies to realize this goal.
Vice President, Ma'ruf Amin, said this dedication in the webinar of The 4th International Halal Conference held by the Science and Technology Center of Excellence PT Institute of Halal Industry and System (PUI-PT IHIS) Universitas Gadjah Mada on Saturday (14/11).
"With a vengeance, we need to make Indonesia the largest producer and exporter of halal products in the world," he said.
Ma'ruf said that Indonesia has a large potential halal market. Data from The State of Global Islamic Economy Report 2019/2020 recorded that the amount of expenditure of world Muslim consumers reached USD 2.2 trillion in 2018 and is proposed to reach USD 3.2 trillion in 2023. Hence, with the largest Muslim population globally, Indonesia must be able to utilize its potential.
Therefore, he also hopes that Indonesia can benefit from the world halal market's potential by strengthening national exports, which are currently only around 3.8 percent of the total world market. Ma'ruf added that Indonesia must promptly take the following five important steps to achieve this goal.
First, stimulating research on halal materials and materials for industry and substituting imported non-halal materials with domestic industrial halal materials.
"If there's no strong research, it will be hard for us to compete and dominate the world halal market," he explained.
Second, developing a halal industrial area (KIH) is expected to attract global investors' attention. The developing KIH is also proposed to attract global investors who make Indonesia a global hub for the world's halal products.
Third, building a halal product of the trade management information system. Ma'ruf revealed that Indonesian halal products' current production data and trade value had not been detected in an integrated system. Accordingly, we need a codification to integrate halal product certification with trade and economic data.
Fourth, strengthening the application of the halal certification program for export products. This strategy is important because strengthening the halal certification program's application will make Indonesian products count and have global competitiveness.
Fifth, enhancing the capacity of MSMEs to support Indonesia to become the largest halal producer globally. In stimulating this strategy, it is necessary to formulate incubation centers for halal businesses in various regions and sharia business centers supported by digital infrastructure as a means of interaction and transactions between sharia business actors.
In the middle of the event, Ma'ruf also appreciated UGM for becoming a center of excellence in higher education science and technology for halal research.
"I am very proud and sincerely appreciate UGM, which since 2007 has had a center of excellence in science and technology for higher education, for handling research in the development and system of the halal industry," he said.
Meantime, UGM Vice-Rector for Research and Community Service, drg. Ika Dewi Ana, M.Kes., Ph.D., said that the halal issue had become an international issue, not only for some countries with a majority Moslem population but also in almost all countries in the world. This condition is because some countries with a minority population of Moslem, such as Brazil, the United States, China, Australia, and New Zealand, also tend to produce halal food. Meanwhile, the biggest consumers of halal products' covered Indonesia, Turkey, Pakistan, Saudi Arabia, Egypt, and Bangladesh.
"This condition reveals that the chance to develop the halal industry starting from halal research in various interdisciplinary fields must become the focus for a big country like Indonesia," he said.
Ika said Indonesia, as an agricultural country, has a big benefit opportunity because we have large data support in agriculture, livestock, fisheries, and others. Other natural resources, such as food, medicine, and cosmetics, are rare comparative advantages in other countries.
This fact is proven by the agricultural sector's growth, which is currently increasingly growing above 3 percent. It is also proven that pandemic conditions do not hinder economic activities, especially those related to the food industry and the Indonesian people's daily needs. As a way to improve this condition, UGM remains to innovate and provide motivation to support the nation's components by ensuring that existing comparative advantages are possible to become the basic resources to be independent and advanced Indonesia.
"UGM through PUI-PT IHIS has attempted to stimulate and provide examples to scientists in the food and cosmetics field in producing real valuable innovations. For example, the E-nose technology that is being developed into GeNose is not only for halal discovery but also for Covid-19 detection," he explained.
Beforehand, Prof. Dr. Abdul Rohman, M.Sc., Apt., as the Chairman of PUI-PT IHIS UGM, revealed that PUI-PT IHIS UGM has got a mandate from the Ministry of Research and Technology to be the center program of science and technology. Three main activities carry it out are:
Strengthening PUI-PT HIS institutions.
Developing academic excellence and building international networks.
The development of commercialization and the use of research.
"The organization of this conference is also part of the Ministry of Education's University Science and Technology PUI program mandate, which is now entering its 4th year," he explained.
Rohman explained that since 2008, UGM researchers had been actively engaged in conducting research developing halal products in the form of a halal research group research community. This engagement has occurred for so long before the formation of PUI-PT IHIS UGM.
"UGM has developed many types of research, one of which is the detection of halal products that has been accredited by LPPT UGM," he said.
Author: Ika
Translator: Natasa A