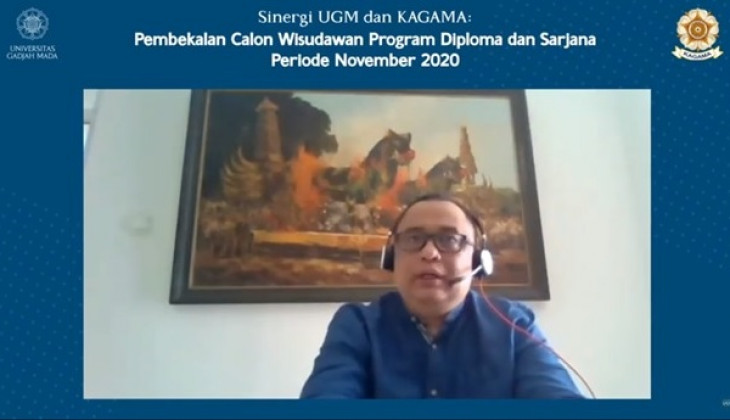 UGM and KAGAMA organized online training for the prospective graduates of diploma and bachelor for the November 2020 period (18/11).
In this regard, the Central KAGAMA Secretary-General (Sekjen), Dr. AAGN Ari Dwipayana, S.IP., M.Sc., delivered several directions for prospective graduates.
"Don't forget to maintain our integrity since we know that it is essential for us to move forward," he said.
Before entering a new professional world, he explained that prospective graduates were required to uphold the values derived at UGM.
Although they have accomplished the study period at the UGM campus, alumni still need to keep learning for any reason. This condition is expected to make achievements with the provisions they have acquired since studying at UGM.
"Don't forget your root. Bring a populist and national spirit with you. Don't forget that we come as people, and we should make it as our guideline wherever we are," he added.
On the same occasion, the UGM Director of Partnership, Alumni, and International Affairs, Dr. Danang Sri Hadmoko, S.Si., M.Sc., affirmed that UGM alumni who graduated in this period would encounter a world full of unpredictability.
Nevertheless, he believed that UGM graduates are always ready to deal with some existing changes.
"Using the resources you got in campus, not only in class but also in organizations that hone soft skills, I'm pretty sure you can deal and face this world full of challenges," he said.
He also suggested prospective graduates stay humble, maintain UGM's well name, and use their knowledge to serve society.
There were two speakers in this briefing of prospective graduates. They were UGM alumni, namely the Secretary-General of the Indonesian Ministry of Manpower, Anwar Sanusi, Ph.D., and the President Director of PT Wijaya Karya (Persero), Tbk., Agung Budi Waskito, ST, M. Tech.
In this regard, Anwar also explained the profile of Indonesia's employment and demographic bonus conditions. He reported data from the Central Statistics Agency for August 2020 recorded a total workforce of 138.22 million with a labor force participation rate of 67.77 percent.
The workforce's profile itself is still dominated by the young generation, although in percentage terms, there is a decrease in the graph recorded from 2010 to 2020.
"We can assume that Indonesia is still undergoing a situation known as a demographic bonus," he added.
Indonesia's labor sector also faces several challenges. He explained that the workforce's growth trend during the past year had reached up to 4 million so that in the next five years, it is necessary to create fields to absorb the workforce.
The government has also undertaken steps to increase the quality of human resources that will step up into professional work by establishing some job training centers. Accordingly, Anwar believed that new graduates have several options, and each of them needs to choose the right path according to their plans for the next few years.
"The prospective graduates may have commenced thinking about their goals. That is a plan that must be done if you want to be a prosperous human being," he said.
Author: Gloria
Translator: Natasa A