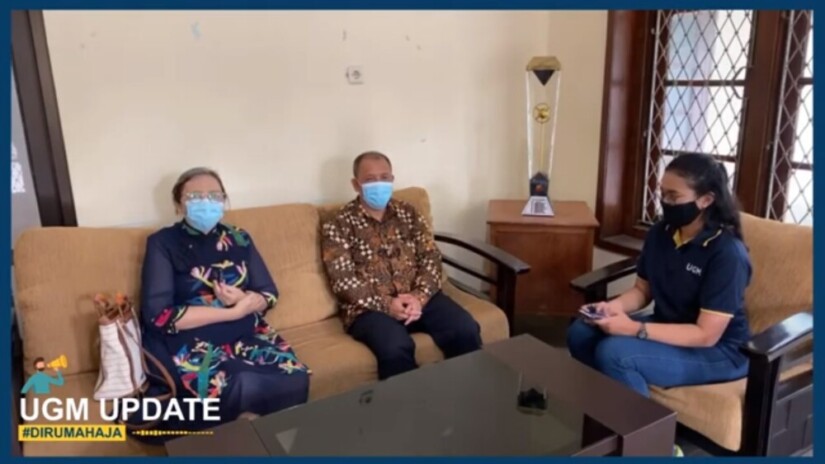 This year, UGM becomes the host of the 33rd National Student Scientific Week (PIMNAS) that is ready to start next week on November 25th. The launch event of PIMNAS this time will be held both online and offline, followed by 625 teams from 101 universities in Indonesia.
"This year, we have a different concept of implementation. Due to the current conditions, we must adjust to the situation by shifting the event offline to online. It has been through 90 percent preparation. We have prepared well the venue used for poster presentations and exhibitions," said UGM Director of Student Affairs, Dr. R. Suharyadi, M.Sc., in the UGM Update event, broadcasted through UGM social media channels on Thursday (19/11).
PIMNAS is the final stage competition of the Student Creativity Program (PKM), a national scale forum for students to present and communicate through intellectual creations. This program was launched in 2001 by the Directorate General of Higher Education to encourage, accommodate, and discern students' creative and innovative ideas. A series of PIMNAS events will be held on November 25 – 28, 2020. It is divided into four major activities, starting from the opening, main activities, supporting activities, and closing.
"We will broadcast live the PIMNAS opening session through UGM youtube channel, the competition itself consisting of 31 classes, as well as the closing ceremony," Suharyadi added.
Some main activities of PIMNAS, such as online presentations of PKM activities and poster exhibitions, will be held offline. The online class's PKM presentation will be attended by groups of students, assistant lecturers, observers, and a jury comprising seven fields. These seven fields include PKM Research (PKM-PE and PKM-SH), PKM Entrepreneurship (PKM-K), PKM Community Service (PKM-M), PKM Application of Technology (PKM-T), PKM Karsacipta (PKM-KC), Written Idea PKM (PKM-GT), as well as PKM Constructive Futuristic Ideas (PKM-GFK).
Apart from the presentation of PKM results, in this PIMNAS, there are also several supporting activities in the form of poster exhibitions, discussion in student affairs, and webinars or general stadiums. This year, UGM has become the university with the highest number of teams passed to the PIMNAS event. From the 700 PKM proposals submitted by UGM, 228 of them received program implementation grants. After going through a series of selections, it was shown that there were 82 PKM UGM proposals that could compete in the final round of PIMNAS 2020.
From the UGM contingent itself, teams that were announced qualified to proceed to the 33rd PIMNAS are 28 PKM Exact Research teams, 10 Social Humanities Research teams, 9 PKM Karsa Cipta teams, and 8 PKM Entrepreneurship teams. Then, 6 PKM Community Service teams, 6 PKM Technology teams, 11 Writing Ideas PKM teams, and 4 PKM Constructive Futuristic Ideas teams. Suharyadi hoped, with these large team numbers, this year's PIMNAS UGM can maintain the overall title for three consecutive years after UGM also won the overall championship at PIMNAS in 2018 and 2019 beforehand.
"As a team with the largest number of participants, we also absolutely hope a lot for success. We hope that the championship trophy will remain in Bulaksumur," he hoped.
Author: Gloria
Translator: Natasa A