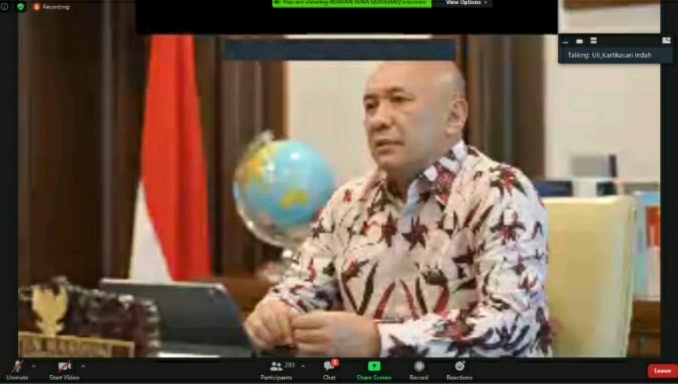 UGM student cooperative (Kopma) successfully organized the National Entrepreneurship Exhibition "Gebyar Perwira" virtual on November 28-29. There were more than 1,000 participants who attended this activity.
A chairperson from UGM Kopma, namely Amin Bahtiar, announced that the 2020 Commissioned Officer raised the theme entitled, "Together Building the Nation with Entrepreneurship". At the peak of the 2020 Commissioned Officer event, there were also the concept of webinars and talk shows presented with several speakers from the bureaucracy, academics, and practitioners of entrepreneurship. 2020 Commissioned Officer also held various competitions related to entrepreneurship targeting students and other business people before reaching out to the event's core. Some of them are Business Plan, Business Profile Video Competition, and Poster Competition.
"At the peak of the event, the Minister of Cooperatives and UKM RI's also delivered their speech," he explained.
There were also some speakers invited at the webinar, one of which was Ir. Syahbenol Hasibuan, M.M. (Chairman of the DIY Regional Leadership Cooperative Council). In his remarks, he delivered a presentation regarding steps to become an entrepreneur. Then, Dr. Rangga Almahendra, S.T., M.M as a lecturer at UGM Faculty of Economic Business and author of 99 Lights in the European Sky and CEO of AdiTV Jogja, gave a lot of insight and emphasis about business challenges in the digital era and the attitudes that entrepreneurs should have.
Next, there was also a speaker, namely dr. Tirta Mandira Hudhi. As a founder and CEO of Shoes and Care, he also shared his experience building a business from zero.
Author: Ika
Translator: Natasa A