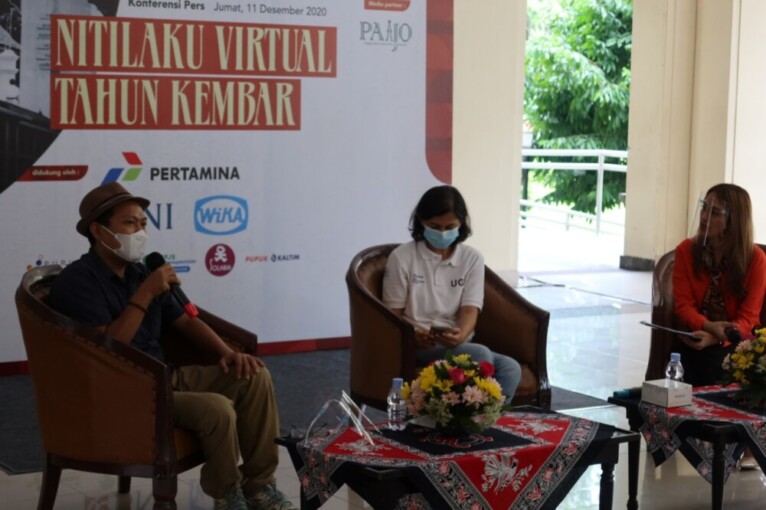 Nitilaku Cultural Parade has become a part of the UGM Anniversary tradition from year to year. Celebrating the 71st anniversary of UGM this year, Nitilaku was held virtually, involving UGM alumni all over the country.
"This time is a little different, but the essence stays the same. I am happy that my fellow alumni are involved in this event a lot," said Chairman of the alumni association (KAGAMA), Ganjar Pranowo, Friday (11/12).
Nitilaku 2020 was available to stream via Youtube and Zoom on Sunday, 13 December 2020, at 07.00 WIB.
It is a cultural parade to symbolize the history of UGM, which at the beginning of its birth took place at Keraton Yogyakarta (Palace) and then moved to Bulaksumur.
Previously, the event was enlivened by various cultural performances on a number of stages that were set up along the road from Keraton to Balairung UGM and was attended by thousands of participants from the UGM academic community, alumni, and the general public.
But this year, the parade, cultural arts performances, and interactions between participants were presented virtually. A video within the series of the virtual parade was all set to show KAGAMA from various regions.
"If pataka is usually brought from Keraton to Balairung, this time it is traveling throughout the archipelago. It is a symbol of UGM establishment from the nation's founders who wanted to advance human resources throughout Indonesia so they could compete in building a new-born nation," explained the Chairman of the Nitilaku 2020 Committee, Iqbal Tuwasikal.
The challenge of organizing a virtual Nitilaku, explained Iqbal, was in preparing the concept and contents of the virtual parade to keep it interesting to follow. Hence, several artists were involved in designing and preparing digital sets.
"The contents have been in preparation by still applying strict health protocols," he added.
Nitilaku 2020 might be present in a different concept, but the core message of 5K synergy, namely Kampus (Campus), Keraton (Palace), Kampung (Village), Komunitas (Community), and Korporasi (Corporation) within the framework of diversity was still there.
The 5K synergy served not only as an element of nostalgia but also as an inspiration for the participants to face various recent and impending challenges, especially those related to the Covid-19 pandemic.
"Nitilaku this year is all about the will to take positive values of what we experience with this pandemic and turn them into social capital for the present and the future," said Rector of UGM, Prof. Ir. Panut Mulyono, M.Eng., D.Eng., IPU, ASEAN Eng.
Author: Gloria
Translator: Salma