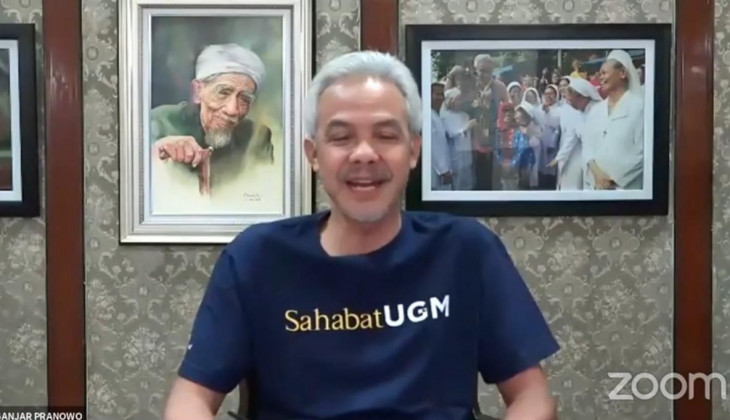 KAGAMA appreciates a variety of social assistance program schemes for affected residents. This social protection program has greatly helped ease the burden on residents who have been hit by the economic crisis.
KAGAMA also hopes that various initiatives from the community to help those in difficulties will continue to thrive.
Chairman of the alumni association (KAGAMA), Ganjar Pranowo, conveyed this in his remarks to open the National Meeting (Rakernas) of KAGAMA on Saturday (12/12). The meeting was held online and attended by more than 400 KAGAMA administrators from all levels, both those who live in the country and abroad.
Ganjar said that KAGAMA has initiated a chantelan program that allows everyone, including the low-income segment, to help and provide for necessities. Kagama Charity Run, said Ganjar, is one of them. Other programs include the donation movement raised through singing and dancing events. The purpose of this activity is to raise funds as a form of concern for others.
These communities are active and organized by KAGAMA around the world, as seen through their carrying out webinars almost every day.
"I am very proud. Even some alumni from other universities were amazed and asked why Kagama was so active. I said, of course, because they are not a mere alumni bond but a family," said Ganjar, who is an alumnus of the Law Faculty of UGM.
He said that this illustration of social capital can be a means to encourage the public to take pride in locally-produced goods by looking after and buying domestic products such as MSMEs' so they can bounce back and keep going. With a population of nearly 270 million, Indonesia has huge market potential. A large population is a strength. Taking pride in locally-produced goods, he said, needs to continue to echo, especially the ones produced by MSMEs.
Ganjar invited all levels of society, especially those in KAGAMA to carry on following the health protocol properly. He also asked the government not to hesitate in enforcing the health protocol rules.
Author: Satria
Photo: Kagama
Translator: Salma