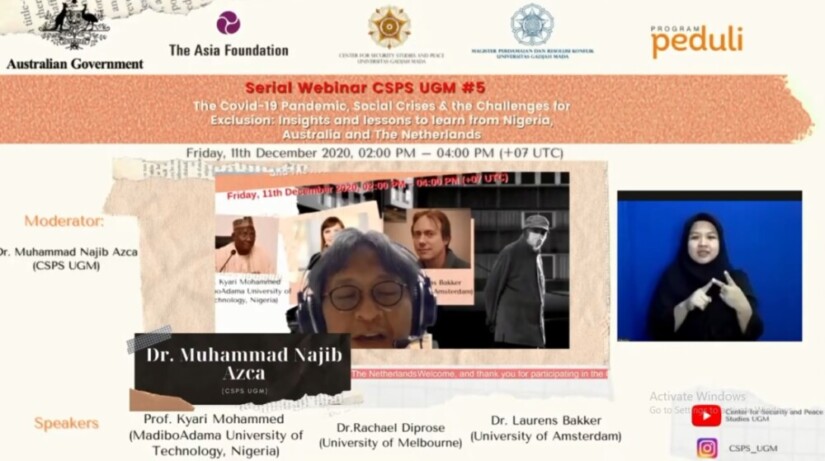 UGM Center for Security and Reconciliation Studies (PSKP) UGM for some time held a Webinar Series for its fifth sequence of the event on Friday (11/12) afternoon. This webinar is held via the Zoom platform and broadcast on the Youtube channel of the UGM Center for Security and Reconciliation Studies.
The title for the event's theme is "The Covid-19 Pandemic, Social Crises, and Challenges for Exclusion: Insight and Lesson to Learn from Nigeria, Australia, and The Netherlands". UGM PSKP also invited several academic resource persons from the three countries listed based on its theme. They are Prof. Kyari Mohammed (Modibbo Adama University of Technology, Nigeria), Dr. Rachel Diprose (University of Melbourne), and Dr. Laurens Bakker (University of Amsterdam).
As the webinar's moderator, Dr. Muhammad Najib Azca, this theme was selected because currently, there were some developments on problems such as health and economic fields during the pandemic situation. He called Covid-19 a global health crisis, which has also impacted several social problems in various parts of the world.
"Government generally only observes the majority of people in determining policies for handling and overcoming Covid-19. In fact, some other layers from vulnerable groups such as the poor and the minorities somehow missed from the Government's discussion," explained the head of the UGM PSKP.
Najib expected that hopefully, this seminar could give people lessons from each resource person's experiences in their respective countries with social problems. This discussion was mainly about the condition of vulnerable groups due to the Pandemic.
Author: Hakam
Translator: Natasa A