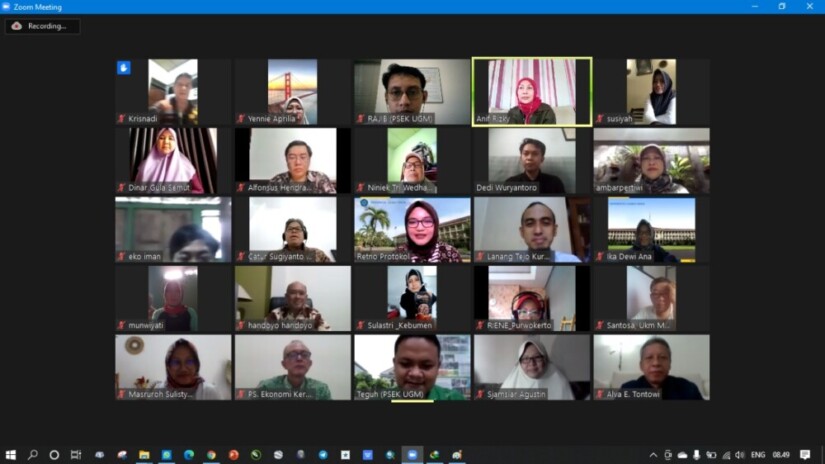 UGM Center for Economic Democracy Studies (PUSTEK) and Bank Syariah Mandiri held an online training and mentoring program for MSMEs in the Special Region of Yogyakarta and Central Java on 14-18 December 2020.
Based on the results of the selection and grouping of participants (clustering), the participants were divided into two batches.
In Batch 1, in terms of business sectors, the majority were MSEs engaged in agriculture and processed food, while participants in Batch 2 were MSEs engaged in small industries, handicrafts, fashion, and other fields.
"With assistance, MSMEs become more professional, especially being accompanied by practitioners here," said Prof. Ambar Pertiwiningrum, Ph.D. as the team leader at the opening ceremony on Monday (14/12).
Pandemic also affected the MSME sector. The ratio of non-performing loans (NPL) to the MSME sector in May 2020 reached 4.14 percent. However, 4.14 percent is still considered quite resistant to the impact of the Covid-19 pandemic, proving that MSMEs are a sector that is resilient in facing the economic crisis, which is almost the same as in 1998.
Although they have crisis resilience, it is not certain how long they will be able to survive because this pandemic-caused economic crisis is expected to last a long time. As a result, MSME players still have a high vulnerability and may not necessarily be able to withstand a long-term crisis.
One of the important factors to survive in times of crisis is good managerial skills. MSMEs with such skills can optimize their abilities and opportunities and thus can overcome crises.
The MSME Training Program itself will cover five main topics, namely "Building Innovative and Competitive Businesses", "Institutions, Legal Aspects, and Networks", "Marketing Management", "Financial Management", and "Operations and Organizational Management".
On the same occasion, UGM Vice-Rector for Research and Community Service, drg. Ika Dewi Ana, M.Kes., Ph.D., revealed that UGM has completed an academic paper related to services for MSMEs.
In addition to training, UGM will also provide laboratories that can serve the needs of MSMEs to standardize or certify their products.
"This is important for all of us because we want our MSMEs to be the king at home, in our own country," she said.
MSME products, she explained, need to be encouraged so they can expand to the international market in addition to meeting domestic needs and contributing to the welfare of society. To go global, standardization and testing are needed to provide legality of the products.
"There must be special assistance so that those limited-capital MSMEs do not have to buy their own tools and educate their own human resources, but can submit the request for certification and standardization to UGM instead," said Ika.
Author: Gloria
Translator: Salma F