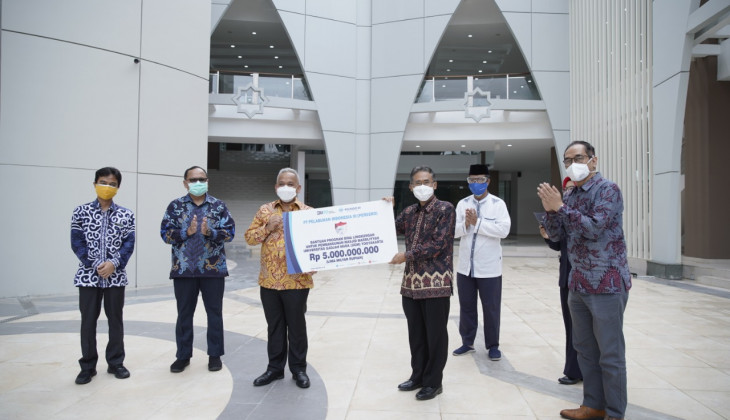 Saefudin Noer as the President Director of PT. Pelabuhan Indonesia III (Pelindo III) supported its assistance in the form of a fund worth IDR 5 billion to construct the Mardliyyah Islamic Center UGM building on Friday (18/120. UGM Chancellor, Prof. Ir. Panut Mulyono, M. Eng., D. Eng., was a party representative to receive the handover session in the Mardliyyah Mosque lobby, located in the south of Sardjito Hospital.
Saefudin Noer said the handover of this aid was given on distributing funds for the Pelindo III environmental development program. These activities include the fields of education, health, and natural disasters. He supported that the aid for constructing the UGM Mardliyah mosque is part of educational and spiritual activities located in the campus area.
"Hopefully, this can be beneficial for UGM and its students later," he said.
He added that during this year, there was about Rp. Forty billion in environmental program funds have been granted. Most of it was to help the handling of the Covid-19 pandemic. "This week, we will distribute 12 thousand health packages for HIV prevention right after the regional election," he said.
Helping is not enough. Saefudin Noer also asked UGM to support its experts in the maritime sector and maritime industry to develop this port business. "In the future, we are still open to other cooperation. We need input from experts because our operation areas are in mangrove and coastal areas," he said.
UGM Chancellor, Panut Mulyono, expressed his appreciation and gratitude for the support given by Pelindo III. He said that this assistance would certainly expedite the construction of the Mardliyyah mosque that is nearly complete. The Chancellor said that the Islamic Center's occurrence on the UGM campus could hopefully develop spiritual activities and student character to prevent ways of thinking from radical ideas.
"We do not only expect qualified-students in the field of science but have a strong character in religious and national values because, at present, radical problems are very serious. We aspire to re-strengthen the character of our graduates for their understanding and perspective on the life of the nation and the state to get more solid," he said.
Author: Gusti Grehenson
Photo: Firsto
Translator: Natasa A