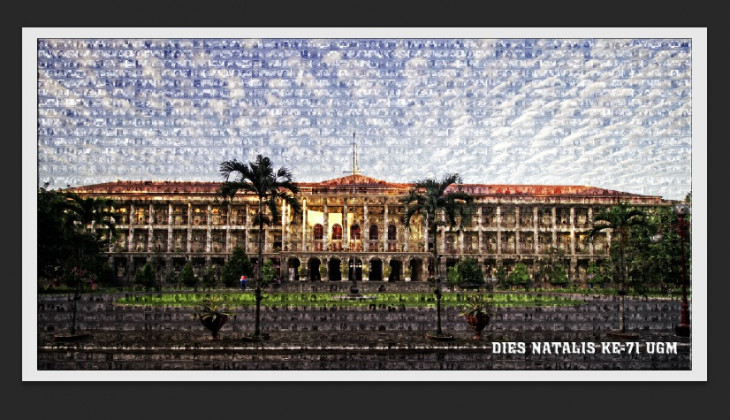 Celebrating the 71st Anniversary, academicians and alumni of UGM from all over the world express their joy in various ways. Tri Harso Sulistyo, a Mechanical Engineering alumnus, created a collage of UGM Central Building and Grha Sabha Pramana (GSP) from all of the twibbon photos of the 71st Anniversary.
As reported earlier, UGM launched a special twibbon or avatar border as a form of support and a way to enliven the Anniversary celebration. It receives a warm welcome not only from the academicians and alumni but also from a number of people who have no direct relation to the university.
"The initial idea is to create a video from twibbon photos, but it is faster to make a mosaic or collage," he said when contacted on Tuesday (22/12).
He collected the photos from his colleagues in Kagama and UGM academicians of different backgrounds and arranging them into a collage by composing 1,156 pictures of their faces. All of them are framed and assembled to form a portrait of the campus.
"The UGM campus photo collage consists of various colors composed of thousands of photos that are put together, like a pluralistic Indonesia. Hopefully, the diversity will strengthen the unity of the nation instead of dividing it," he explained.
Author: Ika
Photo: THS